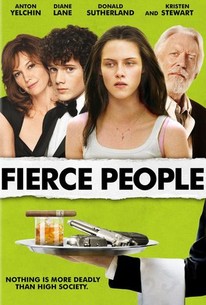 Fierce People
2005, Drama, 1h 52m
45 Reviews
5,000+ Ratings
What to know
critics consensus
Fierce People's premise of a teenager studying rich people like animals is grating and self-satisfied, and Anton Yelchin's smug performance makes the film even harder to agree with. Read critic reviews
Where to watch
Rent/buy
Rent/buy
Rent/buy
Rate And Review
Movie Info
Finn (Anton Yelchin) is a teenager trying to escape his drug-addicted mother (Diane Lane) by going to study tribal people. His hopes are dashed when he gets caught scoring drugs for her, and she decides to start their lives over by moving them in with her massage client, billionaire Ogden (Donald Sutherland). At first, Finn indulges in the luxury around him and falls for Ogden's granddaughter (Kristen Stewart), but he soon finds that the rich can be more savage than any group in the wild.
Audience Reviews for Fierce People
A mildly interesting look at how a kid who has nothing to call his own would respond when thrown into a situation where he is surrounded by people who are incredibly wealthy. Liz Earl (Diane Ladd) is a massage therapist who is struggling to keep it together when circumstances force her to seek refuge with the incredibly wealthy Ogden Osborne (Donald Sutherland), a man she once treated when he was hospitalized. Her son, Finn (Anton Yelchin), meets and becomes friends with Ogden's granddaughter, Maya (Kristen Stewart). The film was good at setting up the premise, and developing the relationship between the two teenagers, but the film seemed to lose its way part way through. Instead of a gentle coming of age story about two people from completely different backgrounds, it became a dark, psychological thriller with patricide and sexual deviancy and a host of other twists that left this viewer somewhat bewildered. The unifying thread is the performance of Anton Yelchin. Without him, this could have been an unbearable mess. However, given the cast, including Elizabeth Perkins as Maya's mother, this film should have had a whole lot more going for it. The fierce people of the title may refer to this "tribe" of the super-wealthy, or it may only be a reference to the tribe that Finn's absent father studies in South America, but as a film, this was a disappointment.

Intensely stupid movie that I caught on Sundance (they constantly make me question why I still keep them on my cable package, but then they show a Cassavettes marathon and I renew them). I can't believe that talented actors like Diane Lane and Donald Sutherland read this script and think it can work (I was wondering if they owed Griffin Dunne something or just thought he was a nice guy). The movie starts out OK (exposition in dialogue is becoming a curse in film today), but then in the middle becomes a mind fuck of a movie with absolutely retarded twists (some of which you see coming a mile away). I am just glad I fell asleep towards the end and awoke to know exactly how this thing would end. Waste of talent all the way around. This is why people should stop smoking weed when they think it's making them a better writer.

If you had told me beforehand I'd include it in the same sentence as 'The Dangerous Lives of Altar Boys' or 'The Chumscrubber', I'd have laughed and said that was unlikely. But this deserves to be on that short list of dark, quirky, and emotionally moving independent films. The movie surrounds Finn (Yelchin) who has to stay home from a South American summer vacation where he was to meet his anthropologist/explorer father for the first time. This is after he is caught with cocaine for his drug addicted and alcoholic mother (Lane), and circumstances have them staying in a guest house at the wealthy sprawling NJ estate of businessman Osborne (Sutherland). While there he falls in love with the billionaire's granddaughter (Stewart), becomes friends with his grandson (Evans), and a number of other sometimes rich and sometimes off-kilter characters. There are dark themes and serious contexts (wealth/class issues, human nature issues) present throughout, with spats of dark humour the first half of the film. The second half hits you like a brick wall, and was one of the most shocking and unexpected turns I've enountered in any film, and all but completely abandons the lighter side and humour found in the first hour. I always wondered where Yelchin came from, and now I know. This is clearly his break,and the same could be said about Chris Evans and even Kristen Stewart (although this came shortly after Speak). Diane Lane, Donald Sutherland, and Elizabeth Perkins seem to take a backseat to Yelchin and the younger cast, but bring a lot of depth to their roles and the film. This movie is a perfect reason not to trust critics and to go with your gut. It's been so long since I've uncovered a movie like this, and given it was out so long without me seeing it, it makes me want to dig around and see what else I'm missing.

Are the customs of a rich family like those of a primitive South American band of natives? That is the premise of this movie. There are those in the rich family who stop at nothing to protect their interests. The movie is better than most these days.
See Details