Fighter in the Wind
(2004)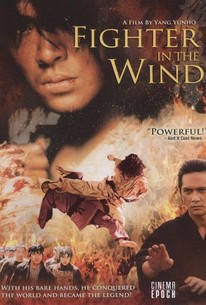 AUDIENCE SCORE
Critic Consensus: No consensus yet.
Fighter in the Wind Photos
Movie Info
In the aftermath of WWII, a Korean man goes to Japan to become a fighter pilot, but instead trains as a martial artist. Later, he travels the country and battles challengers.
Critic Reviews for Fighter in the Wind
There are no critic reviews yet for Fighter in the Wind. Keep checking Rotten Tomatoes for updates!
Audience Reviews for Fighter in the Wind
½
A different kind of martial arts movie. The way the film is set-up, you can tell the director tried to go with a more drama based, even artistic route. Showing many sequences only to explain them afterwords. A bit awkward at first, but a welcome change by the time this thing is through. Based on the true-life exploits of Choi Bae-dal, this movie manages to deliver a fun ride.
James Bond, Jr.
Super Reviewer
Based on the real life Korean fighter Choi Bae-dal AKA Masutatsu Oyama, Fighter in the Wind is a more than mediocre historic action biography.
The pacing of the film is a bit erratic. At times the film tends to drag and at others it turns playful and flies by. No matter what's going on, this movie does take itself very seriously. The part Korean part Japanese story takes its time with building up the characters and setting up the rivalry for the finale, but at the 1 hour mark, which is the halfway point of the picture, the story dissolves a bit and the film turns into quite the martial arts event.
The fights show up in good numbers and the choreography is pretty good. However, they also lack good camera angles and long real time takes, until the ending. Then again, this is more karate and less fancy martial arts.
The acting is good, with exception of the English speaking soldiers. Dong-kun Yang, the lead, speaks Japanese just as good as his Korean and his fights are very believable. The two main Japanese actors are Aya Hirayama, who is the Japanese beauty, and Masaya Kato, who is the rival. Both are great. Doo-hong Jung, who is the fight choreographer, finds himself with a character early on as well.
Fighter in the Wind is a bit slow and dramatic at times, but it is a Korean film worth seeing.
½
Suffers from some pacing issues, Oyama goes to the mountains, has 5 minutes of rocky-esque training sequences and all of a sudden he can break rocks with his hands. Mind you, the film takes the story serious enough, but then it goes into do stuff like the above, and then streching the film around the middle. Thus, keeping this from being anything more than just a mere small crowd pleaser. Jet Li's Fearless operated on a similar way, but with better timing.
Tsubaki Sanjuro
Super Reviewer
Fighter in the Wind Quotes
There are no approved quotes yet for this movie.