Film Stars Don't Die in Liverpool
(2017)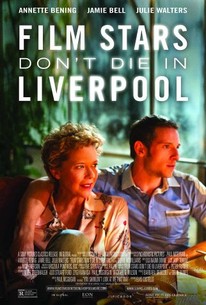 TOMATOMETER
AUDIENCE SCORE
Critic Consensus: Film Stars Don't Die in Liverpool showcases brilliant work from Annette Bening, whose performance is more than enough to outweigh this biopic's basic narrative.
Film Stars Don't Die in Liverpool Videos
Film Stars Don't Die in Liverpool Photos
Movie Info
Based on Peter Turner's memoir, the film follows the playful but passionate relationship between Turner (Bell) and the eccentric Academy Award (R)-winning actress Gloria Grahame (Bening) in 1978 Liverpool. What starts as a vibrant affair between a legendary femme fatale and her young lover quickly grows into a deeper relationship, with Turner being the person Gloria turns to for comfort. Their passion and lust for life is tested to the limits by events beyond their control.
News & Interviews for Film Stars Don't Die in Liverpool
Critic Reviews for Film Stars Don't Die in Liverpool
Audience Reviews for Film Stars Don't Die in Liverpool
½
GRAHAME CRACKERS - My Review of FILM STARS DON'T DIE IN LIVERPOOL (2 1/2 Stars) Couldn't get enough of MY WEEK WITH MARILYN? Fear not. FILM STARS DON'T DIE IN LIVERPOOL, directed by Paul McGuigan (LUCKY NUMBER SLEVIN), written by Matt Greenhalgh (CONTROL) based on the memoir by Peter Turner, is the turgid melodrama you've been craving! Starring Annette Bening as Academy Award winner Gloria Grahame and Jamie Bell as Turner, the film traces their unlikely year affair at the end of her life. Grahame, whose fame peaked in the 40s and 50s, won an Oscar for her record 9 minutes of screen time in 1952's THE BAD AND THE BEAUTIFUL in and also appeared in such films as IT'S A WONDERFUL LIFE, OKLAHOMA!, IN A LONELY PLACE and THE BIG HEAT. She spoke in a breathy, Monroe-esque voice, conforming to the expected gender norms of the time, but, like Marilyn, she carried great sadness and a healthy dose of smarts. By the late 70s, film roles were few and far between for her, with occasional roles on TV in RICH MAN, POOR MAN and KOJAK. It was around this time that Gloria, now cash depleted, moved to London to appear in a play, and lived next to Turner, a working class actor, in a cheap theatrical boarding house. Initially friends, the two grew closer and closer, despite their nearly 30 year age difference. Over the years, Grahame would find herself welcomed by Turner's parents, played here by Kenneth Cranham and Bell's BILLY ELLIOT co-star, Julie Walters in their Liverpool home. Gloria and Peter's time together would include stays in L.A. and New York City, where they would share love and intense arguments. Despite their differences, Grahame, who ignored a cancer diagnosis, returned to Liverpool in her final days to be with the family who meant so much to her. The film seems to be about so many things. How play-acting can be both a comfort and a road to ruin. The lies we tell ourselves and others to get through each day. The way sexism and ageism creeps into relationships and can also crush a career. How one can choose their true family. All of this comes through in the film and it's not without its merits. First and foremost is the gorgeous look provided by cinematographer Urszula Pontikos (WEEKEND). The film feels like it takes place in some technicolor fever dream inside Gloria's mind with its heightened, glowing color schemes and classic, Old Hollywood sensibility. Shot entirely in England, the beautiful rear projections, especially of L.A. beaches and New York streets, add to the sense of make believe at the core of its story. Production Designer Eve Stewart (THE KING'S SPEECH) also creates wonderful, vivid spaces for the actors to inhabit. That Bening delivers another great turn comes as no surprise. It feels like she's been working towards this performance her entire career. At the screening I attended, she said that Gloria Grahame inspired one her her earliest roles in THE GRIFTERS. It's easy to understand how Bening could relate to Grahame. Both delivered sexy, glamorous performances in their younger years and both have had to navigate careers decades later, where Hollywood STILL doesn't know what to do with women of a certain age. I hope, hope, hope that Bening wins an Oscar one day, because she's a national treasure, but after losing twice to Hilary Swank and not even being nominated for her stellar performance in 20TH CENTURY WOMEN last year, it doesn't look promising that this role will be the one to do it. Please don't stop trying, Annette. You're loved. The real revelation, however, is Bell. Now 31, he has aged really well and carries so much emotion and gravity in his face. A disco dancing scene between him and Bening early on shows a dynamism I haven't seen from him before, and he has a wonderful, sweet chemistry with Bening. With his palpable sadness, if they ever do a movie version of the musical, BLOOD BROTHERS, Bell would be ideal as the twins. I also loved some of the music choices, including a lovely, old Elton John instrumental called "Song For Guy" and a fantastic new song called "You Shouldn't Look At Me That Way" written for the film by Elvis Costello. If this film gets any Academy love, it could go towards that song. Unfortunately, it's a dull film filled with a plethora of awkward silences and pauses. It's also a shame that the main characters' bisexuality gets a passing mention, never to be spoken of again. As a chronicle of a woman struggling in an industry and in a world where older woman get thrown to the trash heap, I liked its central premise. It also has a cinematic way of presenting the juggled timelines, and in one sequence, the point of view shifts so show you the heartbreaking choices Gloria made in order to save another soul from a life of regret. Still, it's an obvious, soap opera moment, further underlining that this film just isn't that special. It's lovely, wonderfully performed, and has something interesting to say about gender, but in the end, it's a somewhat listless, three-hankie weepie that we've all seen before.
Glenn Gaylord
Super Reviewer
Film Stars Don't Die in Liverpool Quotes
There are no approved quotes yet for this movie.