A Film Unfinished
(2010)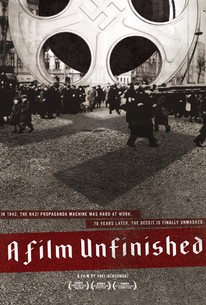 TOMATOMETER
AUDIENCE SCORE
Critic Consensus: A heartbreaking, haunting historical document, A Film Unfinished excavates particularly horrible chapter of Holocaust history, and in doing so, the film provides a glimpse into the Nazi propaganda machine.
Movie Info
Yael Hersonski's powerful documentary achieves a remarkable feat through its penetrating look at another film-the now-infamous Nazi-produced film about the Warsaw Ghetto. Discovered after the war, the unfinished work, with no soundtrack, Film Forum is proud to present Yael Hersonski's A FILM UNFINISHED, having its U.S. theatrical premiere on Wednesday, August 18. Since the end of WWII, one copy of a 60-minute (unfinished) propaganda film, shot by the Nazis in the Warsaw Ghetto in May 1942 (a year prior to the uprising), labeled simply "Ghetto," sat undisturbed in an East German archive. A FILM UNFINISHED presents the entire film, both documentary and fictionalized sequences (e.g. dozens of Jewish patrons at an elegant restaurant; a luxurious funeral cortege). It includes a revealing interview with Willy Wist, the only cinematographer identified with the production (himself caught onscreen in his SS uniform), as well as scenes in which now-elderly former residents of the Warsaw Ghetto, reviewing the footage, occasionally recognize their neighbors, or report upon the filmmakers' efforts to stage fantasies of affluence and well-being, or of Jews treating their less fortunate compatriots with callous disdain. This is a film of enormous import: it documents conditions under which ghetto residents lived and the efforts (however imperfect) of the perpetrators to recast this reality to suggest an entirely different scenario. A FILM UNFINISHED is presented with support from the Joan S. Constantiner Fund for Jewish and Holocaust Film. -- (C) Film Forum
News & Interviews for A Film Unfinished
Critic Reviews for A Film Unfinished
Audience Reviews for A Film Unfinished
There have been many incomplete films relegated to the dutsbins of oblivion. What separates the subject of "A Film Unfinished" is not its simple title of "The Ghetto" but its subject matter, that of the Warsaw Ghetto in May 1942, shortly before its liquidation, containing about an hour's worth of footage(some shot in color) commissioned by the Nazis that was forgotten for decades in East German archives. For me watching the footage is like watching ghosts while providing insight into the horrible conditions inside the ghetto. It is very emotional for survivors to watch it, looking for people they once knew amongst the footage, some of it staged to give the appearance of affluence. As one survivor puts it, they did not have flowers and if they did, they would have eaten them. So what was the purpose of the footage shot? We know it was propaganda, of course, but without any narration or soundtrack, it is hard to know for sure what the point was since that could change the meaning of what we see, even with the testimony of one of the cameramen.(A neat little trick I learned from Screen Studies 101.) And it is also hard to say what footage was intended for a completed film.(Like a lot of filmmakers, the Nazis used multiple takes.) Some survivors thought the film was made to give a negative portrait of the ghetto while I think the Nazis were intending to give the indication of a thriving and vibrant community to cover up any claims of the awful deed they were about to commit since they were not exactly open about the slaughters they committed.
An insightful cache of informative but sickening images shot within the confines of Warsaw's Jewish Ghetto during the holocaust. Includes scenes staged by Hitler's propaganda machine as well as raw, unedited footage of Nazi crimes against humanity.
Randy Tippy
Super Reviewer
The most depressing documentary that everyone should watch.
Sam Barnett
Super Reviewer
A Film Unfinished Quotes
There are no approved quotes yet for this movie.