Final Exam
(1981)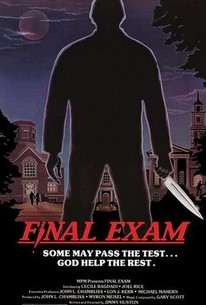 Movie Info
College exam period becomes even more terrifying for a group of students when a deranged killer roams campus in search of victims.
Critic Reviews for Final Exam
Audience Reviews for Final Exam
In the early 80's many Slashers have made their mark. Many Slashers have been lost in the countless sea of Halloween rip-offs. Some are sometimes better to be forgotten. Final Exam is one of those Slashers that are really in between. The film is mediocre with nothing really good to offer genre fans. The biggest problem with this film is that it has a rather mundane script and poor cast. Add to that it's pretty boring and there's never anything interesting happening. There's some pretty good kills on-screen, but never any real substance to really make it memorable. The film is unfocused and tries to combine many other elements, thus in turn it loses track of what tries to be. The performances aren't that great either, and as a whole, Final Exam is a Slasher that is hit and miss. The film had so much potential, but it just doesn't have the effective elements that have made the genre so popular among horror fans. This film simply doesn't have any good writing, even by Slasher film standards. Usually the killer's motives are what make up for these types of films, and gives the film some of its interesting qualities, however this film just doesn't have a good enough plot to keep you interested and you end up feeling bored most of the time. The direction is sloppy, and the film will disappoint fans of the genre. Good idea ruined by a poor script and with all the good kills near the end, just doesn't make this one worth checking out. Final Exam is a mediocre flick that should only be watched when you're really bored.
½
Final Exam is another 80's slasher in a long line of slasher movies that came out of that decade this one follows a group of college students stuck on campus studying for there tests when of course a killer just has to show up and start killing off the student body one by one and yes of course someone is gonna have to stop this madman but will they be able to? i was being alittle nice given this movie 2 and half stars cause from what i even remember of this movie there wasnt much blood you didnt see many kills it was more or less missing alot of what makes a slasher movie a slasher movie to start with so watch at your own risk
Final Exam Quotes
There are no approved quotes yet for this movie.