Fingers
(1978)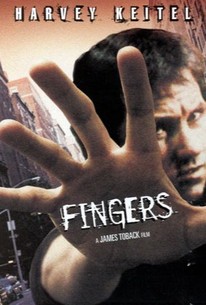 Movie Info
A wannabe concert pianist spends his days making a living by collecting debts for his Mafioso father, a lifestyle that could eventually ruin his dreams of a musical career.
Critic Reviews for Fingers
Audience Reviews for Fingers
What was the point of this awful, nonsensical movie? None that I could see. Ugly and aimless.
"Fingers" may be a homely stepbrother to Robert De Niro's classic Martin Scorsese vehicles, but it's an interesting curiosity (if hardly a great movie). Harvey Keitel breaks out as a leading man, carrying every scene as Jimmy, an immature, anxious twentysomething who's torn between dreams of becoming a classical pianist and his brutal work as a collector for his bookie father (Michael V. Gazzo, with his impossibly ravaged voice). He pursues a sensuous sculptress (Tisa Farrow, sister of Mia) and has rough sex with future Charlie's Angel Tanya Roberts (sporting the best bikini body you ever saw), but also struggles with homosexual temptations. Meanwhile, football legend Jim Brown (portraying Farrow's muscle-shirted boyfriend) schools him about how real men behave. Nothing quite falls into place for Jimmy, but he's pinning his hopes on an upcoming audition at Carnegie Hall. Writer/director James Toback's script is rather erratic, and full of casual plot elements that don't go anywhere (Jimmy's confused sexuality, for one, and how about the traffic accident and the prostate problem?). But the most questionable ingredient is -- surprisingly -- Keitel's performance. He gives Jimmy a ridiculous number of tics and twitches and, strangest of all, decides to compulsively mouth all the notes as he fakes piano virtuosity. Anyone familiar with Glenn Gould or Keith Jarrett can guess how hard this is to watch. Expect some unintentioned laughs before the story inevitably turns violent.
Eric Broome
Super Reviewer
½
Rough and ready original version of the French THE BEAT MY HEART SKIPPED, with Harvey Keitel torn between the two career choices of being a classical pianist and roughing up people who owe his dad money. To my mind this, the original, is the better film, butthat's only because I like 70's films in general, and 70's films with Harvey Keitel in them in particular, and 70's films with Harvey Keitel playing a conflicted character who's highly likely to take his clothes off in at least one scene, the most of all.
Fingers Quotes
There are no approved quotes yet for this movie.