Fireworks Wednesday (Chaharshanbe-soori)
(2016)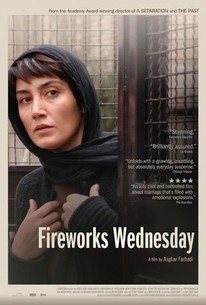 TOMATOMETER
AUDIENCE SCORE
Critic Consensus: Well-written and powerfully acted, Fireworks Wednesday gives audiences an early, assured glimpse of writer-director Asghar Farhadi's emerging talent.
Fireworks Wednesday (Chaharshanbe-soori) Videos
Fireworks Wednesday (Chaharshanbe-soori) Photos
Movie Info
Iranian director Asghar Farhadi's third feature, Chahar Shanbeh Suri (aka Fireworks Wednesday), follows Rouhi (Taraneh Alidoosti), a betrothed woman who works for a local housekeeping agency. When she accepts an assignment cleaning the home of an affluent married couple about to leave on vacation, this newcomer to the household is quickly sucked into a virulent nuptial conflict of deceit, treachery, and vitriol that challenges all of her presuppositions about the nature of married life. By cloaking the events of the household (and their precipitants) in ambiguity, and constantly shifting the central perspective of the film from one character to another, Farhadi adds depth and complexity to the work and continually challenges the audience, forcing each viewer to rewrite his or her presuppositions about the characters. Though the film's title refers, in the metaphoric sense, to the explosiveness of domestic strife, the events in the film coincide with the firework-strewn Persian New Year of March 21, which lends the title a literal significance as well. ~ Nathan Southern, Rovi
News & Interviews for Fireworks Wednesday (Chaharshanbe-soori)
Critic Reviews for Fireworks Wednesday (Chaharshanbe-soori)
Audience Reviews for Fireworks Wednesday (Chaharshanbe-soori)
After being blown away by A Separation, I decided to delve into director Asghar Farhadi's oeurve. Fireworks Wednesday, centers around familiar terrain: a broken marriage, as see through the eyes of a young housekeeper, and by extension, the audience. Farhadi's directorial style is subtly powerful: he takes his time, and allows the information to creep in at its own pace, instead of feeling a more Westernized need to shoehorn it all into the first 10 minutes. He also seamlessly shifts our point of view over and over again, confronting the audience to think twice about any preconceived notions we might have about his characters -- our assumptions, and their reliability. He's not afraid to allow a scene to develop, and he fearlessly trusts his actors. He'll direct in a more "invisible" style, but he astutely knows when to mix it up and reposition the camera, or change vantage points to inform the audience about a character's motivations. In this film, the martial strife hits a fever pitch and culminates in a show stopping long shot down an elevator, and into the street that has to be seen to be believed. I honestly don't think it could have been shot any better, and the mis-en-scene is pitch perfect. A theme that occupies Farhadi appears to be the corrosive underbelly of Persian culture, and its stifling traditional values. This story takes place on Chaharshanbe Suri (the Persian New Year) and all throughout the film, you hear fireworks in the distance. Near the end of the film, there's this great sequence where two characters are driving in the car, and through the windows you see a succession of fireworks, and fire in the streets. After dwelling on these details for a minute or two, the metaphorical meaning seeps in -- these relationships are just as combustible. It's a subtle detail, but very powerful -- and, for me, that's a great way to describe Farhadi's style: subtle, but powerful.
Jonathan Hutchings
Super Reviewer
Fireworks Wednesday (Chaharshanbe-soori) Quotes
There are no approved quotes yet for this movie.