Fist Fight
(2017)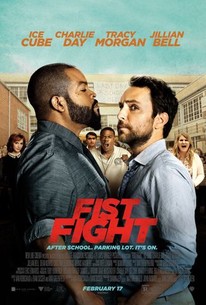 TOMATOMETER
AUDIENCE SCORE
Critic Consensus: Fist Fight boasts a surplus of comedic muscle but flails lazily, and far too few of its jokes land with enough force to register.
Movie Info
A mild-mannered high-school teacher (Charlie Day) is accused of getting a fellow teacher (Ice Cube) fired, and is challenged to a fight after the school day ends in this comedy directed by Richie Keen.
News & Interviews for Fist Fight
Critic Reviews for Fist Fight
Audience Reviews for Fist Fight
The only reason my rating is so high is the fact that I never expected it to be as good as it was, It come as quite a surprise how funny it was, Ice Cube basically plays the same character that made his role in the Jump Street films so good, It's nothing new but it's full of cheap laughs from start to finish and the fight at the end was pretty entertaining, Yes it's predictable but it's allot of fun.
Jamie Clarke
Super Reviewer
Going in with low to optimistic expectations there was no great weight on the shoulders of Fist Fight. It's February and Fist Fight is a comedy starring Ice Cube and what you get from Charlie Day in between seasons of It's Always Sunny in Philadelphia-which is more or less the same Charlie Day, but likely a little less energetic and manic due to his more lax schedule. There was no reason to believe Fist Fight would be a memorable comedic experience and it isn't, but it isn't the cheap altogether crap fest it very well could have turned out to be either. Rather, Fist Fight is a comedy that understands its premise is outlandish and unrealistic from the get-go and thus never takes itself seriously as a representation of the public school system (though some aspects could certainly be interpreted as exaggerated issues) and thus ramps up the ridiculous with every scene-testing the limits of how far the individual audience member is willing to go with them. It would be easy to drop off of the ride at any point along the way, but Ice Cube and Day offer a funny and different enough dynamic that the two parallel arcs are interesting enough to watch develop and culminate for the scant ninety minute running time. Sure, the premise is slim and one can feel the ride straining itself a bit as it nears the inevitable third act, but with a one-two punch of climactic scenes that includes both an elementary school talent show as well as the titular fight (which more than delivers on its promise) there is plenty to be pleased with once the credits begin to roll and the bloopers begin to play. Of course, Fist Fight isn't the pinnacle of comedic filmmaking and it certainly isn't what Thomas Edison had in mind when he imagined what his motion picture camera might one day be able to achieve, but as far as comic relief it is exactly that-it serves the purpose it was intended for squarely. We know what Ice Cube excels at and we know what we're getting when Charlie Day pops up on screen and the best thing to be said for Fist Fight is that it plays up those two personas until it forces them to collide and while that may indicate there is nothing new to be found in either the story or the performances it does mean it features two charismatic and admittedly funny people doing what they do best-what's wrong with that? Not a whole lot in my humble opinion. read the whole review at www.reviewsfromabed.com
Philip Price
Super Reviewer
Let me clarify here. In no way was I going into this film expecting something great, or even hilarious for that matter. The trailers had a few chuckles, but I truly expected this film to be a bunch of misfires, along with a cliched premise that would be predictable from beginning to end. Sadly, the latter is more than 100% true, but I can't deny that Fist Fight made me laugh quite a bit. I found myself predicting the entire film from start to finish, but not all of the jokes throughout it. I was chuckling consistently and that is the main job for a comedy. For that, I have nothing to do but commend it for that. Fist Fight may be as by the numbers as you can possibly get as far as story goes, but the bottom line is that it's funny. It's not something you have to rush out and see, but here is why I think it deserves your time in the end. Never did I think I would see Charlie Day and Ice Cube headlining a film together, but that is precisely what made it as good as it is. Following two teachers (Andy and Ron) as they try to maintain a corrupted school environment, Ron is fired after lashing out in his classroom, but only due to the fact that Andy was a rat and tattled on Ron, thus sparking a feud between them, strongly favoured by Ron. Ron challenges Andy to a fight after school and hilarity ensues from there. Sounds outlandish right? That's because it is and there is no way around that. From Andy having a wife who is about to give birth and a daughter that needs him at her talent show, Fist Fight tries very hard to make you laugh, tug at your heart-strings, and make you feel sympathy for everyone involved, in just 90 minutes. Why does this all work? The cast is very enjoyable as their respective characters. The main plot is already ridiculous enough, but when you really deconstruct this film as a whole, the sub-plots are even more outlandish than the film itself. When another teacher, played unintentionally comical by Christina Hendricks, wants Ron to literally murder Andy, I found myself scratching my head at why it was going so far off course. Maybe it was due to the fact that they needed another plot to push the 90 minute run time, but that whole portion could have been removed and wouldn't have made a difference in the end. Also, there are some funny moments with the principal (played by Dean Norris), but they were too few and far between that I completely forgot he was in the film most of the time. From the very beginning, you may want to roll your eyes at how convenient everything seems throughout the film. How everyone gets away with things when the police are around, how certain things will probably have happy endings, or how certain relationships between students and teachers will come to fruition, but they are all done in such a way that works. Most of the dialogue can be memorized before it's even said, because you have already heard it a million times, but the comedic timing this cast has still made almost every gag work for me. I found myself laughing consistently throughout most scenes and I found myself forgiving the grievances. In the end, this film is really all about the humour and the big fight in the finale. I was laughing throughout most of the movie and the fight was actually pretty entertaining, so naturally I left somewhat satisfied. Yes, the dialogue was very lame at times and the story could not have been any simpler, but sometimes you just need nonsensical entertainment that doesn't make you want to tear your hair out. I had fun watching this film, even with all of its flaws present. Will I remember it as one of the best comedies that could out this year? Probably not, but I will definitely remember that it made me laugh and for that reason alone, I will recommend this film to anyone who is looking for a harmless good time at the movies. Fist Fight was much funnier than I was expecting.
Fist Fight Quotes
There are no approved quotes yet for this movie.
Discussion Forum
Discuss Fist Fight on our Movie forum!