Fists Of Legend
(2013)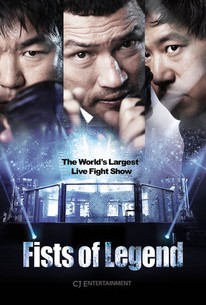 Movie Info
Three amateur brawlers with a long history together compete in a televised fighting contest with a $200,000 top prize in this rock 'em sock' em action flick from South Korea. 25 years ago, Deok-kyu, Jae-seok and Sang-hoon were the most fearsome fighters in their high school. These days former, one-time Olympic hopeful Deok-kyu struggles to keep his noodle shop afloat as Jay-seok runs with a low-level street gang and Sang-hoon bides his time in a boardroom, lamenting the lack of excitement in his life. Upon learning of a new television show that offers former street fighters a shot at some serious money, all three race to get back in shape, and claim the big cash prize. ~ Jason Buchanan, Rovi
Critic Reviews for Fists Of Legend
Audience Reviews for Fists Of Legend
I suppose it would be, somewhat, fair to call this the Korean version of Warrior. You know, the American film with Joel Edgerton and Tom Hardy playing a pair of brothers who both join an MMA tournament. Granted, while this film is serious, it's not nearly as serious as Warrior was, maybe to a fault. It's also not as good as Warrior was. But the similarities are there, even down to the epic length. I watched this film in two sittings so I would not honestly know whether it was longer than it should've been. It probably was too long for its own good, but breaking it off into two parts probably helped a lot with the pacing and, overall, my enjoyment of it. The film certainly does a good job in making extensive use of flashbacks to show you the path these three classmates took in order to reach the point where they join this Legendary Fighter reality show/tournament. It's not that it's absolutely essential, but it does give you a little bit of backstory onto how Lim, Jae and Sang made it to this point where they have to go on this reality show for varying reasons. Again, it's not like it's absolutely essential, but it helps a lot with character development and getting into this concept and why it would be important for, say, Lim to win the tournament. Or even Sang for that matter. As far as the action sequences go, I wouldn't even qualify as a casual MMA fan, I've never watched a full show from beginning to end. Sometimes I watch clips of certain knockouts on YouTube, but that's it. With that said, I still do like to think that I have some basic knowledge of how MMA works. With that said, I did find the whole action sequences to be a little unrealistic. What I mean by that is the fact that almost every fight scene is a stand-up/boxing/kickboxing battle. MMA, if you've followed it for any period of time, is simply not like that. There's a lot of ground game, whether it is through wrestling or jiu-jitsu, working for submissions, getting in your opponent's guard, etc. This film pretends all of these things do not exist. That's what I mean when I say it's unrealistic. To someone who doesn't have any knowledge, upon watching this film, would conclude that it is a barbaric sport when there is so much more to the sport than just punching your opponents in the face repeatedly. I know that they only focused on stand-up because if they featured wrestling or jiu-jitsu that it would be boring to a casual audience, I don't think that's conjecture on my part. It's plainly obvious to see. With that said, and I was only talking about the lack of realism in ignoring other forms of martial arts in favor for the more entertaining one, I do think the fights themselves are believably put together. They're entertaining at the very least. It's not as hard hitting as some of the scenes in Warrior were, but I found them to be fun to watch. The main narrative arc of Lim overcoming his dark past and reconnecting with his daughter was certainly a good, if cliched, one. There's not so much effort put into Sang's narrative, past him finally standing up to his boss, also a former classmate, after years of being his henchman, so to speak. It's certainly good enough, but there's not a whole lot of time spent on it to truly develop it. There's also this subplot of Lim's trainer/manager that has an incredibly unsatisfying conclusion. Essentially, the manager went on the show to try and get his job back with the National Intelligence Service. He brings it up in almost every scene he appears in. That's all this character has going for him really. So how do they pay this subplot on? Remember that this is something they've spent considerable time on, maybe not a lot, but still a considerate amount. They pay this off by having the producer of the show say that this character, whose name escapes me, called him and thanked him for getting him his job back. Literally. That's it. There's no scene of him going to Lim and celebrating that he got rehired. There's nothing except this throwaway scene in the middle of one of the fights. Talk about anticlimactic and unsatisfying. Not to mention the character disappears after Lim loses his fight against Sang, before the tournament is put together. Talk about lame. The acting is good. I've always thought that Hwang Jung-min, the lead, is a really good actor and he has an every-man, likable quality about him in this movie that makes it incredibly easy to root for him. I think this review has gone on long enough. This isn't gonna win any awards for originality or its 'greatness'. It's really just a good film with good acting and solid action. Nothing to write home about here, but I would recommend it as a Netflix watch and if you have 150 minutes to kill. I do suggest taking a break near the middle of the film, just so the pacing does not become unbearable since the film is so long if you decide to watch it in one sitting. Still, good stuff here.
Jesse Ortega
Super Reviewer
Fists Of Legend Quotes
There are no approved quotes yet for this movie.