Flakes
(2007)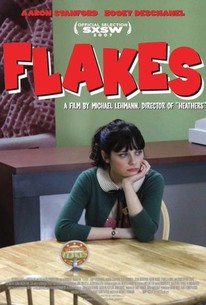 Movie Info
An old hippie owns a bistro that only sells cereal and spends his days serving cereal and chatting with the local clientele about the history of cereal and the ideal milk to flake ratio. Suddenly his utopian state is disrupted when a competitor shrewdly rips off the concept and opens his own cereal shop across the street.
News & Interviews for Flakes
Critic Reviews for Flakes
Audience Reviews for Flakes
½
Cereal and pop culture are fun, but this movie, not as much. It was still a nice little quirky indie film, but a little too uneventful, and predictable. Extra 1/2 star for Zooey. She made it worth watching.
Cynthia S.
Super Reviewer
½
I always seem to gravitate to films like these... rarely do I ever feel fulfilled. The premise of the film seemed great; same old story arc told from a different perspective and Zooey. Mmmmm Zooey. The crew and sets of the film work for the most part... Aaron Stanford was a weinie though. I did not like his dynamics and struggled to put up with him. He really was a douche and not in the sense of his character and that's what they were going for; but really someone I wish was recasted. Chris Lloyd was great to see and the setting of Flakes stood for a tasty premise. Really this was an okay movie(good to watch during breakfast?) and is probably Michael Lehmann's best movie which... isn't saying much. I did hardcore crave some cereal though, so great execution on that part, Mike!
Thom Mirem
Super Reviewer
Totally adorable, but that's because of Deschanel. She just oozes adorableness... Very quirky and funny.
Leigh Ryan
Super Reviewer