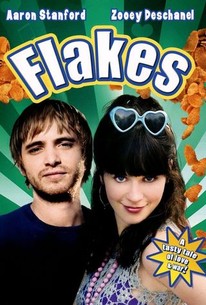 Flakes
2007, Comedy, 1h 24m
18 Reviews
1,000+ Ratings
Rate And Review
Movie Info
Neal Downs (Aaron Stanford) is a slacker singer-songwriter who makes his living managing a restaurant that specializes solely in cereal. Owned by Willie (Christopher Lloyd), an aging hippie, the establishment provides Neal with a low-stress work environment, but it also becomes a point of contention with his lovely girlfriend, Miss Pussy Katz (Zooey Deschanel), when he won't hire her. When a similarly themed eatery opens nearby, Neal finds that his lady is happy to side with the competition.
News & Interviews for Flakes
Audience Reviews for Flakes
Cereal and pop culture are fun, but this movie, not as much. It was still a nice little quirky indie film, but a little too uneventful, and predictable. Extra 1/2 star for Zooey. She made it worth watching.

I always seem to gravitate to films like these... rarely do I ever feel fulfilled. The premise of the film seemed great; same old story arc told from a different perspective and Zooey. Mmmmm Zooey. The crew and sets of the film work for the most part... Aaron Stanford was a weinie though. I did not like his dynamics and struggled to put up with him. He really was a douche and not in the sense of his character and that's what they were going for; but really someone I wish was recasted. Chris Lloyd was great to see and the setting of Flakes stood for a tasty premise. Really this was an okay movie(good to watch during breakfast?) and is probably Michael Lehmann's best movie which... isn't saying much. I did hardcore crave some cereal though, so great execution on that part, Mike!

Flakes is more dry and boring than any bowl of cereal could ever be. I've enjoyed many a hipster indie movie, but all the quirky characters in the world can't save a movie that's dull and devoid of any entertainment value, whatsoever. I think the movie was attempting an Empire Records-type vibe, where you're introduced to a few off-beat characters, and then grow to care about their lives over the course of the movie. That certainly didn't happen. Every character was annoyingly "different", and the viewer is never given any reasons to grow attached to them. They never become anything more than arbitrarily alternative caricatures. I normally love Zooey Deschanel (she's the reason I watched the movie), but she's just as un-appealing in this as everyone else. This may sound harsh, but Flakes was a complete failure. Don't waste your time with it.

Totally adorable, but that's because of Deschanel. She just oozes adorableness... Very quirky and funny.
See Details