Footnote
(2012)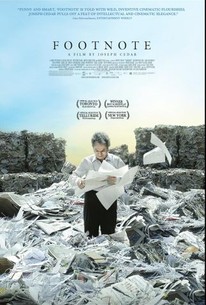 Movie Info
Eliezer and Uriel Shkolnik are both eccentric professors, who have dedicated their lives to their work in Talmudic Studies. The father, Eliezer, is a stubborn purist who fears the establishment and has never been recognized for his work. While his son, Uriel, is an up-and-coming star in the field, who appears to feed on accolades, endlessly seeking recognition. Then one day, the tables turn. When Eliezer learns that he is to be awarded the Israel Prize, the most valuable honor for scholarship in the country, his vanity and desperate need for validation are exposed. His son Uriel, meanwhile, is thrilled to see his father's achievements finally recognized but, in a darkly funny twist, is forced to choose between the advancement of his own career and his father's. Will he sabotage his father's glory? -- (C) Sony Pictures Classics
People Who Like this movie also like
News & Interviews for Footnote
Critic Reviews for Footnote
Audience Reviews for Footnote
½
A man who has followed in his father's footsteps in the study of the Talmud give up a prestigious prize for his father's benefit. There are moments in Footnote that resonate with any academic. The satire of the cramped rooms and the highfalutin conversations in academic babble is sharp, biting, and accurate. This also has the distinction of being one of the few films about academe that doesn't include a relationship between a teacher and a student, and for that it deserves applause. Not limited to satirizing the academy, the film is also about fathers and sons and the tough love fathers sometimes bone-headedly think their sons need. This plot is poignant and universal. What bothers me about the film are the ending, where I though we needed more clarity, and the film's misogyny. The women are all either idiots or supporters, and when Eliezer's wife finds out the film's primary secret, her response is merely to support more. The female characters lack any agency in the home or the profession, and while it's true that some sections of academe are miniature boys' clubs, the film doesn't seem to level its satire bullseye at the phallocentrism of the academy. Overall, there's a lot to like about this film, but where it fails, it fails big.
Jim Hunter
Super Reviewer
½
"Footnote" should have been a short. Israeli writer/director Joseph Cedar took what was essentially a compelling short film and dragged it out to feature length. Forty minutes' worth of story never works well in a feature film. "Footnote" is also directed and acted like a short. Everything about it screams short. Why it was nominated for a Best Foreign-Language Film Oscar I will never understand. Thank God it lost (to the vastly superior "A Separation"). The corruption in the Foreign-Language category is legendary. It appears that nominations are simply auctioned off to the highest bidders. Cedar's film does have interesting content. As a short, it would have been great. A father and son, both Talmudic scholars in present-day Israel, have a rivalry of sorts. The father grows quite bitter as he watches his son win far more accolades than he ever did. The father believes the new generation's scholarship is less serious and not truly focused on the Talmud. The father wins a highly prestigious award that he has pined after for decades, giving him a tremendous feeling of vindication. But the nominating committee calls the son in for a private meeting, where they say that the award was really intended for the son. They want the son himself to break the news to the father. I won't reveal what the son does. One more complication develops, the details of which I won't get into. But still there's just not enough going on for a feature film. The directorial style is also quite flat and bare-bones. Only one sequence in the entire was fully written. Everything else is sketchy, like the script never got past the outline phase. The cinematography is completely pedestrian. Because this short was stretched to feature length, there's quite a bit of repetition and slackness as well, as scenes are forced to go on longer than they need to. "Footnote" to me feels like a good film-school project. It demonstrates that Cedar has the talent to become a real filmmaker. I hope someday he does develop into one, learning how to write a fully developed screenplay and how to do cinematography.
William Dunmyer
Super Reviewer
The story of two Professor Shkolniks: father Eliezer is a bitter Talmudic scholar whose life work can be reduced to one footnote in a major reference work, while son Uriel is a rising academic star who has outshone his father but remains loyal to the old man. It sounds dry, but there's surprisingly juicy drama (and comedy) about lifelong grudges, office politics, and the complex father/son dynamic inside the professorial premise.
Footnote Quotes
| | |
| --- | --- |
| Eliezer Shkolnik: | There are things more important than the truth. |
| Uriel Shkolnik: | There are things more important than the truth. |
| | |
| --- | --- |
| Uriel Shkolnik: | It will kill him. |