For A Woman
(2014)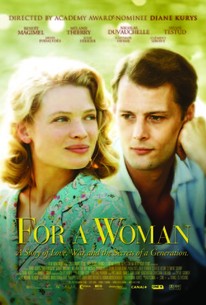 Movie Info
Anne has a very active imagination, only natural for a writer. But in her mid-thirties, she still knows practically nothing of her own family's past. After her mother's death, Anne discovers old photos and letters that convince her to take a closer look at the life of her parents, Michael and Léna. The young couple met in the concentration camps during World War II, later moving to France to start their new life together. Soon, Anne's research into their Jewish history and their ties to Lyon's communist party reveals the existence of a mysterious uncle, Jean, whom everyone seems intent on forgetting entirely. As she gradually closes in on the discovery she didn't know she was looking for, her father grows ever more ill, and may take the secret that kept them apart for so long to his grave. In a journey that stretches from post-war France to the 1980s, Anne's destiny intertwines with her father's past until they form a single, unforgettable story. (c) Film Movement
Rating:
NR
Genre:
,
Directed By:
Written By:
In Theaters:
On DVD:
Runtime:
Studio:
News & Interviews for For A Woman
Critic Reviews for For A Woman
Audience Reviews for For A Woman
This period piece was perfectly framed with a complex romantic and political intrigue set in post WWII/Holocaust era in France that unfortunately fizzled which I blame entirely on the dull actress Melanie Thierry. **SPOILER ALERT** She failed to convey the complex emotions of a character who survived and escaped the horrors of concentration camps to having the audacity to betray her savior husband by flirting with the notion of an extramarital affair with his brother. I remember that this was the same actress in the equally dull "The Princess of Montpensier" who killed what could have been a romantic swashbuckling story by failing to convince as the titular princess capable of inspiring so many men to kill for her affections.
Ching Tan
½
the story held my interest throughout, but its not something i personally liked...but im sure a lot of people will enjoy it more.
Mike N.
½
This French post-war drama is definitely not a comedy as listed on RT. Written and directed by Diane Kurys, it has some biographical elements and many added fictional parts to make the movie more plausible for wider audience. The combination was right, and the result is very touching and emotional story of Anne who finds out there is a family secret. She discovers that her late mother once had a love affair with her brother-in-law... who they didn't know that even existed! In 110 minutes there was enough of mystery, love, betrayal and struggle to keep everyone entertained and to keep watching but without all the "foaming" soapy elements. French stars Nicolas Duvauchelle and Benoit Magimel play Ukrainian-born but France-raised siblings, with Melanie Thierry playing the latter's young wife, who finds herself inconveniently attracted to her brother-in-law. Acting was out of this world, almost perfect... until the last few scenes where I was distracted with the ridiculously looking Magimel under so much old-age makeup, transformed to something which did not belong with the previous scenes of the movie. Odd, fake and disturbingly bad. [img]http://www.larepublique77.fr/files/2013/11/Pour-une-femme1-300x225.jpg[/img] Most of Diane Kurys films are connected to her life, and the effects of the divorce were revisited in almost all of those. The first thing you will notice in this film is how well was the spirit of the era caught on a screen, from scenography to costumes to the dialogue and acting. Everything seemed right, from the little remarks the husband was making about the length of the dress, to the helping with the laundry in the kitchen when there were no washing machines around. A real time capsule! The director's eye for a detail was amazing. It was developed at the time when she began as an actress with Jean-Louis Barrault's company. She gained film stardom, but felt unable to express herself under "the director or any kind of authority or control." That made her to transition into writing and film making with a special focus on the things which bothered her previously as an actress. If you are a fan of beautifully crafted historical (melo)drama, and you could make yourself pretend that you didn't noticed the last part with the "old Magimel", have this one on your list!
For A Woman Quotes
There are no approved quotes yet for this movie.