Four Christmases
(2008)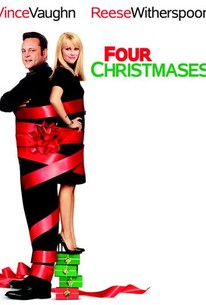 Movie Info
When upscale, happily unmarried San Francisco couple Kate and Brad find themselves socked in by fog on Christmas morning, their exotic vacation plans morph into the family-centric holiday they had, until now, gleefully avoided. Out of obligation--and unable to escape--they trudge to not one, not two, but four relative-choked festivities, increasingly mortified to find childhood fears raised, adolescent wounds reopened and their very future together uncertain. As Brad counts the hours to when he can get away from their parents, step-parents, siblings and an assortment of nieces and nephews, Kate is starting to hear the ticking of a different kind of clock. And by the end of the day, she is beginning to wonder if their crazy families' choices are not so crazy after all.
News & Interviews for Four Christmases
Critic Reviews for Four Christmases
Audience Reviews for Four Christmases
Good rom com about a perfect couple who enjoy spending time with each other and not their families. They both come from broken divorced families and are forced to spend Christmas with each family member when their flight to Fiji is cancelled. Good cast and storyline.
Candy Rose
Super Reviewer
This actually isn't too bad, I thought it would be a horrible mess of cuddly, kissing family fun but its quite dark in places and pretty funny in others. Its not GREAT but its certainly one of Mr Vaughan's better films recently, Witherspoon is just annoying as usual. It starts off well when they both visit Robert Duvall (Vaughan's dad) and wreck the house, then the next stop after that where Vaughan's old school buddy is screwing his mum LOL! probably the best scenes are there. The third stop at Witherspoons mum is also good, where all the women in the house (granny n all) seem to be sexually active towards Vaughan hahahaha After that it does go down hill fast and very predictable towards the soft cuddly ending, shame cos it really kicks off as a 'National Lampoon' style fun film....not bad stuff.
Phil Hubbs
Super Reviewer
A bit of a laugh but way too predictable and nothing special.
Sophie Burgess
Super Reviewer
Four Christmases Quotes
| | |
| --- | --- |
| Howard: | Your grandmother's boyfriend is a first class ass sniffer! And you can tell him that I said so. |
| | |
| --- | --- |
| Brad: | I'm sorry, I didn't know there was a ten dollar spending cap. |
| Howard: | Well, maybe if you came home more than once a decade, you'd know crap like that! |
| | |
| --- | --- |
| Brad: | My childhood was like the Shawshank Redemption, except I didn't have some old, warm, black man to share my story with! |
| | |
| --- | --- |
| Darryl: | Look, Brad, I'm not trying to be your father, you already got one of those. I'm just hoping for a chance to be your friend. |
| Brad: | You were my friend, Darryl. You were my best friend. We grew up together, we rode bikes together, we used to smell each other's hands. But now you're sleeping with my mom and it's a little bit weird for me. Can you appreciate that? |
| Darryl: | I never had a sexual thought of your mom until I was thirty. |
| Brad: | Can you leave it alone? You can't be my friend anymore. You can't be sleeping with my mom and still be my friend, okay? |
Discussion Forum
Discuss Four Christmases on our Movie forum!