The Fourth War
(1990)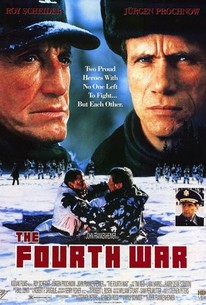 Movie Info
The Fourth War finds director John Frankenheimer delving into the same Cold-war territory he'd previously cultivated in films like The Manchurian Candidate. Col. Jack Knowles (Roy Scheider), serving at a faraway post on the German-Czech border, carries on a personal war with his Soviet counterpart, Colonel Valachev (Jurgen Prochnow). Both have been hardened by past combat experiences, and both have been embittered by the exigencies of red tape, bureaucracy, and diplomatic deal-making. Their friendly rivalry snowballs (literally so!) into a guerilla-like combat situation, culminating in a one-on-one showdown. It's essentially a shaggy dog story, but a compelling one. Based on a novel by Stephen Peters, The Fourth War was given surprisingly short shrift by Cannon Films' distribution channels.
Critic Reviews for The Fourth War
All Critics (9) | Top Critics (3) | Fresh (7) | Rotten (2)

Ozus' World Movie Reviews
Scheider is much better then the material.

Nolan's Pop Culture Review
Underrated war flick with a great lead performance by Roy Scheider.

Audience Reviews for The Fourth War
½
Confrontation. Thats what the film is all about. But this Cold War offering is quite stale by now. Most young people don't know anything about this Cold, or phoney, war. Roy Scheider does his best to make it entertaining. Director Wolfgang Schmidt was also behind Slasher. I will add to this preposterous, rather far fetched personal war between Scheider and his military counterpart on the other side. I really can't believe Scheider would entertain being in this incredibly strange and bizarre plot. Hardly a Cold War thriller in which an American colonel (Roy Scheider) and his Soviet counterpart (Jurgen Prochnow) engage in a private, potentially disastrous war. Lots of border clashes, showdowns, stuff we see in all these East-West border skirmishes. Cast Roy Scheider Jurgen Prochnow Tim Reid Lara Harris Harry Dean Stanton Crew Director: John Frankenheimer Art Director: Rick Roberts Associate Producer: Harry Bloom Associate Producer: Frank Spolar Based on a Work by: Stephen Peters Cinematographer: Gerry Fisher Composer: Bill Conti Costume Designer: Ray Summers Editor: Robert F. Shugrue Executive Producer: Sam Perlmutter Executive Producer: William Stuart Line Producer: Robert L. Rosen Producer: Wolf Schmidt (also directed Slasher) Production Designer: Alan Manzer Screenplay: Stephen Peters Screenplay: Kenneth Ross Set Decorator : Janice Blackie
monsieur rick
The Fourth War Quotes
There are no approved quotes yet for this movie.
Discussion Forum
Discuss The Fourth War on our Movie forum!