Frankenstein's Bloody Nightmare
(2006)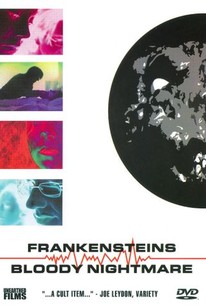 Movie Info
When the woman he loves dies under mysterious circumstances, a brilliant but twisted young doctor vows to bring her back from the beyond in director John R. Hand's experimental, low-budget take on the Frankenstein legend. Nobody really knows what strange goings on occur in the darkened hallways of Dr. Victor Karlstein's secret laboratory. A man driven by the obsession of restoring life to the dead, Dr. Karlstein refuses to accept that his beloved has passed away while she was being cared for at his strange facility. But to a man like Dr. Karlstein death isn't always so permanent, and with a little assistance from a reanimated and mechanically-enhanced corpse, he may be able to gather the parts needed to bring his love back to life before decay begins to set in.
Cast
Critic Reviews for Frankenstein's Bloody Nightmare
Audience Reviews for Frankenstein's Bloody Nightmare
The bare plot has a scientist---or perhaps his monster, it's never quite clear---killing women to harvest their body parts so the doctor can resurrect his dead love. Director John R. Hand shows a remarkable technical ability to create unique visual and auditory environments inspired by the 1970s trash movies of Jean Rollin, Lucio Fulci, and Andy Milligan, only with with their cheap, desperate Super-8 stylistics amped up to surreal levels; the problem is that, for all its technical ingenuity, the movie has no story to tell, which will cause the average viewer to lose interest quickly.
How can you even describe this film, other than maybe, as it was in Screem mag, a horror film if it was made by Stan Brakish (I don't remember if it actually said that, but close). This film is almost more avant garde in style than horror, although the title sounds like a Hammer film. It was really done minimally in terms of budget, and for those who think that's a bad thing: for shame! It really utilizes it's retraints to their best. Now if by the last comment one thinks I am saying "this film is good, considering...", one is wrong. This film is good, period. It's really like anything you've ever seen and the main character seems genuinely creepy, yet innocent. There is so much going on in this film, and yet so little shown it the way, which gives a nervous and lonely quality and also seems alot like the movies of past where alot would be going on. The premise is confusing but bsically a doctor is trying to keep alive his love. He is the head of a company, who are trying to flush him out. He's also under investigation from the police. Oh! and he has a monster who does his bidding in order to get body parts and life matter for his dying love. What I have just given you, however, is not clearly stated but is what I figured out from watching it. I watched the interview with the director on the DVD and he seems like a deeply interesting character and really the film seem like a labor of love, and something he really believed in. So if you are in for something different go for it, but if you can't sit through a David Lynch movie, you might have trouble with this one. *Note: John R. Hand is not too similar to Lynch, accept for the fact of abtract narrative, it was just an example.*
Patrick Dolan
Super Reviewer
Frankenstein's Bloody Nightmare Quotes
There are no approved quotes yet for this movie.