Freakdog (Red Mist)
(2009)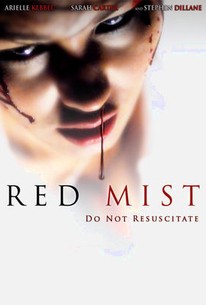 Freakdog (Red Mist) Photos
Movie Info
Shrooms director Paddy Breathnach returns to terrify horror hounds with this supernatural shocker about a dangerous loner who falls into a deep coma, and travels out of body to seek revenge against his tormentors. Kenneth Chisholm is a depraved hospital janitor with a penchant for snapping voyeuristic cell phone pictures. One night, while out at a local bar, a group of trainee medical students work up the courage to confront the sleazy shutterbug. Devastated, Kenneth suffers from an epileptic fit and falls into a deep coma. Later, when remorseful trainee Catherine Thomas attempts to revive Kenneth by administering an experimental drug cocktail designed especially for coma patients, she inadvertently sets off a horrifying series of events that will put the lives of both herself and her fellow students in grave danger. As a result, Kenneth is jolted into an out of body state that allows him to enter the bodies of his enemies and manipulate them into doing his bloody bidding. But who can you turn to for help when the person you always counted on could be possessed by a madman? When anyone can be the killer, no one can be trusted. ~ Jason Buchanan, Rovi
Critic Reviews for Freakdog (Red Mist)
Audience Reviews for Freakdog (Red Mist)
It's difficult to describe how bad Red Mist really is. But let's just say this is one of those movies that you'll probably find at the bottom of the DVD remainder bin or gloss over on Netflix without feigning much interest in watching. That's probably for the best. The story primarily plays out like a "I Know What You Did in Med School" with a paranormal twist. A group of medical interns get carried away one night with drugs and alcohol and decide to play a prank on creepy loner Kenneth by giving him a hefty mix of these toxins. To their surprise (and keep in mind these are supposed to be med students who should be educated in the outcome of overdosing and mixing drugs and alcohol), Kenneth falls into a deep coma. Terrified for their futures, they make a pact to swear they had nothing to do with it. Soon enough, one by one they're all slaughtered, as Kenneth starts having out of body experiences by possessing other people to do his murderous bidding. If this premise alone doesn't sound ridiculous/cliched enough to detract you, think about watching the dumbest and least interesting characters parade around trying to figure out what you already have. Or having to sit through botchy medical science. Or very lame and poorly constructed kill scenes. Or a really slow paced film devoid of anything suspenseful or scary. Needless to say, do not watch.
Edward Boxler
Super Reviewer
This could have been so much better. Nice idea but on a tight budget, and thin plot lines it doesn't live up to potential. I thought Arielle Kebbel being in this might be a good sign, but it's not up to the usual quality of films she is in. I also have to add I really don't understand why they try to Americanise this film? It was obvious to me this was made in the UK, Northern Ireland, so why not set it there? Why try to make out it's a small town in America? Only for those who don't mind low budget horrors.
½
Eh, nothing new. Usual back of posing, vapid medical students are taken care of one by one through "strange" circumstances. The type of film where you are rooting for the bad guy since no one else is likable. Some nice stylistic flourishes help elevate things.
Freakdog (Red Mist) Quotes
There are no approved quotes yet for this movie.