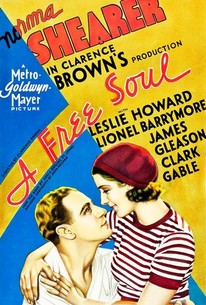 A Free Soul
1931, Drama, 1h 31m
3 Reviews
500+ Ratings
Where to watch
Rent/buy
Rent/buy
Rent/buy
Rate And Review
Movie Info
Morally ambivalent defense attorney Stephen Ashe (Lionel Barrymore) gets mobster Ace Wilfong (Clark Gable) off the hook when he's brought up on charges of murder. The lawyer's impulsive daughter, Jan (Norma Shearer), falls for the slick criminal's surface charm and breaks her engagement to upper-class polo player Dwight Winthrop (Leslie Howard). But when Jan discovers that she can't break away from Ace so easily and Dwight comes to her rescue, it's up to her father to put matters right.
Audience Reviews for A Free Soul
Here's the way I see things..... Norma Shearer's character Jan falls in love with a gangster played by you know who even though she's going out with a nice guy.The gangster is something exciting while the nice guy is quickly forgotten.What girl wouldn't want to be in constant danger of being shot at instead of horseback rides on the beach? Daddy, who's a lawyer & alcoholic, was OK with the gangster (Hey he's bringing in business, right?) until he found out the gangster is going out with his daughter.Now there's a problem & this causes a rift in the once tight bond between father & daughter, her family as well.Eventually the daughter realizes her & the gangster's relationship is going nowhere & he realizes that she's never going to publicly acknowledge their relationship (She always sneaking in the backdoor to see him) She sees what a mistake shes made & that she was actually better off with the nice guy.The gangster let's her know he's never, NEVER going anywhere & in steps the nice guy to save her from the gangster.BOOM.Now they go & find her father who was doing well but slipped & fell off the wagon a little ways back & hopped a train to ??? to bring him back to try & help the nice guy beat the case.THE END.I wasn't into this movie as much I hoped or thought I would be.It was just something to sit back & watch.I think I might have dozed off once or twice & had to rewind it back.Go ahead & give A Free Soul a shot.You'll probably enjoy it more than I did

Great performances and a lively plot make this one quite entertaining. The premise is an alcoholic lawyer agrees to give up drinking provided his daughter will stop seeing a gangster she's gotten herself involved with for the thrill of it. Lionel Barrymore is the father and turns in a performance worthy of the Oscar he received, and it's nice to see him in a very different role from old Potter ('It's a Wonderful Life') but hear that same voice. Norma Shearer plays his daughter and was also nominated; she's wonderfully natural in the role of the non-conformist 'free soul', and has a languid sexuality about her in scenes such as the one where she encourages action from her lover instead of talking, and later reclines back and asks for an embrace with "Come on, put 'em around me" before the scene fades to black, and we know what that meant. Clark Gable is the gangster, playing the heavy very well, and Leslie Howard is the 'nice guy'; eight years later, of course, they would appear together as Rhett and Ashley in 'Gone With The Wind'. It's interesting to compare what shocked people who saw this movie in 1931, and compare it to what shocks us today. The fact that Shearer's character is sexually liberated and seeks out a physical relationship, turning down Gable's offer to marry her, was scandalous. As she slinks around in a thin white dress, she purrs "Men of action are better in action. They don't talk well ... Why, I take it on the run right into your arms, don't I, darling? ... Ace, darling, I'm head over heels mad about you, but what's in the future I don't know...". We, on the other hand, are shocked at Gable's arrogance when she meets up with him three months later, after having ended their relationship. He shows his nasty side, manhandling her and making it clear that he'll make it known that they've had sex, therefore 'she's mine, she belongs to me'. His behavior isn't condoned of course and others stick up for her, but the idea that's she's ruined in some way and 'not fit for any other man' was the view in society at the time, and part of Leslie Howard's heroism is to attempt to protect her honor. Worth watching for challenging the morals of the day, and for the star-studded cast, which shine almost a century later.

Not one of the notable films from the thirties. This was a little silly for all involved.

This is most notable for containing what could be the first instance of what has become a Hollywood staple, the climactic courtroom speech. Barrymore ramps the ham factor up to eleven with his, rather unconvincing, plea for the jury to give Howard a break. As courtroom scenes go only Pacino's craziness at the end of "And Justice For All" tops it. As with that film, the preceding narrative isn't really worth sitting through for the payoff. We associate Gable with the dashing romantic leads of "It Happened One Night" and "Gone With The Wind" so it's a shock to see him playing a nasty scoundrel here. As a mob boss he's quite intimidating, not someone you want to cross. Shearer finds him utterly seductive though, practically orgasming at first sight of his rugged looks. After the introduction of the code, criminals couldn't be portrayed as glamorously as Gable, and good girls like Shearer certainly couldn't be shown falling for them. Shearer isn't portrayed as being anyway likeable so it's hard to sympathise when she gets herself in trouble. Even when Gable starts roughly man-handling her she doesn't seem all too bothered anyway. More focus should have been placed on her fiance, the always great Howard. He goes to great lengths to help her but loses his dignity in so doing, eventually ending up in the climactic courtroom scene on a murder charge. The movie is based on a novel by Adela Rogers, daughter of Earl Rogers, a brilliant but alcoholic lawyer of the time who was famous for the sort of showboating techniques displayed here. Barrymore and Shearer are basically glamorised versions of the father and daughter. She later wrote a biography which was adapted for the screen in 1991 as "Final Verdict" starring Treat Williams. Despite Barrymore picking up a Best Actor Oscar, the movie has faded into obscurity and is really only of interest to film historians (or those who insist on writing about Pre-Code Hollywood).
See Details