French Film
(2009)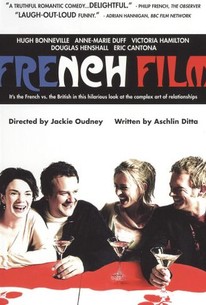 Movie Info
English hang-ups about romance get satirically filtered through the perspective of French movies in this witty, cinematically-literate comedy helmed by British director Jackie Oudney and scripted by Aschlin Ditta. The creators set up two narratives: in a framing device, Eric Cantona stars as the elitist, pretentious French writer-director Thierry Grimandi, who could use a lesson in humility; he operates according to the mantra, "I consider myself lucky firstly because I am French, secondly because I make movies, thirdly because I understand love." As Grimandi periodically crops up to pontificate on film and relationships, a second narrative emerges. Hugh Bonneville stars as Jed Winter, a smug, unhappy British journalist enduring a super-dysfunctional relationship with long-term girlfriend Cheryl (Victoria Hamilton). She just rejected his marriage proposal out of dissatisfaction for the lack of romantic chemistry in their relationship; they tentatively remain together, but that all seems poised to change when Jed begins to develop feelings for his friend Marcus's girl, Sophie (Anne-Marie Duff) - and it just so happens that Marcus falls for someone else, leaving the situation wide open for Jed to waltz in and sweep Sophie off her feet.
Critic Reviews for French Film
Audience Reviews for French Film
In "French Film," struggling with the preparation for an interview with noted film director Thierry Grimandi(Eric Cantona) is the least of Jed's(Hugh Bonneville) problems as his ten-year relationship with Cheryl(Victoria Hamilton) has just taken a turn for the worse recently when she turned down his marriage proposal. So, they are now in couples counseling. At least, their friends Marcus(Douglas Henshall) and Sophie(Anne-Marie Duff) are doing much better, even with the threat of a bit of Marcus' past returning back into his life. "French Film" is an amiable enough movie with a likable cast(it's nice to see Douglas Henshall smile for a change) that barely acknowledges an incident that could be thought of as emotional rape which dwarfs any discussion of journalistic ethics. Otherwise, the movie resembles a Woody Allen film (or Woody Allen doing European films) more than the French films it seems to be commenting on. A large part of that involves separating the fiction from the reality in a relationship as the movie makes a great case for it not being important how two people meet("Scandal" has the exception to this rule) but rather how much they love each other.(The movie implies that there is something seriously wrong in Jed's waiting 10 years to propose whereas it could have just been a case of not wanting to wreck a good thing.) For example, most of the significant people I have known in my life I have met in incredibly insignificant ways.
A terrific little story about two couples going through a bit of upheaval in their relationships.
Mark Abell
Super Reviewer
French Film Quotes
There are no approved quotes yet for this movie.