Friday Foster
(1975)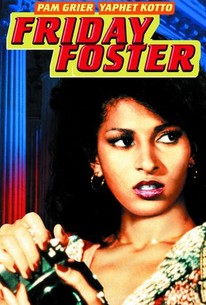 AUDIENCE SCORE
Critic Consensus: No consensus yet.
Movie Info
Based on a comic strip, this film follows the beautiful Friday Foster (Pamela Grier), a media photographer who inadvertently stumbles across a sinister conspiracy intended to do away with a group of black politicians. It is up to Friday to foil the gangster who concocted the "Black Sunday" plot.
Critic Reviews for Friday Foster
All Critics (3) | Fresh (3) | Rotten (0) | DVD (1)
The character's not as iconic as Foxy Brown, and yet Friday is Grier's best role from this era, because it gives her the most notes to play.
It's all ridiculous but entertaining in an unsophisticated ogling way.
Audience Reviews for Friday Foster
Great cast, underwhelming script, but worth a watch if you love Pam Grier!
Ken Stachnik
Super Reviewer
This later entry into the blaxploitation canon isn't really a bad film per se, it just doesn't really live up to its potential. This story of a fashion photographer getting caught up in a nutty mystery/conspiracy all because she ended up being in the right place but at the wrong time is entertainng, but it fails to be super engaging and rousing. It does have a slick look at a decent (but not really special) soundtrack, but the slickness takes away from any sort of rough or down and dirty atmosphere that made films like Coffy or Foxy Brown great. Incidentally, the lead from those films is also the lead here: the wonderful Pam Grier. This film escapes feminist critique by letting Greir have more control over her character and her actions, and it's an alright character and performance, but everything going on (with the characters, plot, etc) just feels tired. I don't mind the slickness, but the film also feels like something from tv. It has a flat look, which is odd since fashion and fashion photography are main focuses here. The cast is incredible: there's Grier, Eartha Kitt, Julius Harris, Scatman Crothers, Carl Weathers, and Yaphet Kotto. One of my favorites is Tierre Turner as Cleve. He's pretty damn funny. Too bad's he's only got a small role. I like that this film tried to be more dignified, but it is just underwhelming. The direction is competent, just uninspired. I did say it is entertaining, because it is, but it could have had some more action scenes. There's a few, and they're not bad, but there's plenty of down time. Now, some of that time is exposition and mystery solving, but the film still could have retained its slickness and dignity even with a few more chases or shoot outs. I was disappointed with this one, but it doesn't quite do enough stuff wrong to warrant the lower grades that others might give it. It's worth a look out of curiousity or for completists, but I think that really just the diehards are probably gonna get a lot out of it. So for the rest of you, seeing it won't kill you, but you might wish you'd spent your time doing something else instead.
Chris Weber
Super Reviewer
½
Friday Foster, starring Pam Grier from the 70's is a good watch. Pam Grier plays Friday a photographer whom gets caught up in murder and goes undercover. Another hit for Pam Grier who kicked butt in the 70's.
Mason Williams
Super Reviewer
Friday Foster Quotes
There are no approved quotes yet for this movie.