From Justin To Kelly
(2003)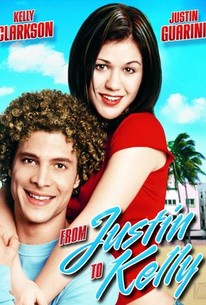 TOMATOMETER
AUDIENCE SCORE
Critic Consensus: A notorious stinker, From Justin To Kelly features banal songs, a witless plot, and non-existent chemistry between its American Idol-sanctioned leads.
From Justin To Kelly Photos
Movie Info
From the producer and writer of Spice World and the director of She's All That comes this musical comedy inspired by and featuring the stars of Fox's hit reality show American Idol. Starring the winner and runner-up of the show's first season, Kelly Clarkson and Justin Guarini, as slightly fictionalized versions of themselves, From Justin to Kelly attempts to recreate the atmosphere of the fun-loving beach musicals of the 1960s. When Kelly (Clarkson) and Justin (Guarini) embark on a vacation in search of some fun in the sun with their respective groups of friends, the two meet and fall for each other at first sight. Unfortunately, a series of comedic mishaps and hijinks gets in the way of them getting together. Several song-and-dance numbers ensue. In addition to Clarkson and Guarini, the film stars Greg Siff, Brian Dietzen, and Katherine Bailess. ~ Matthew Tobey, Rovi
People Who Like this movie also like
Critic Reviews for From Justin To Kelly
Audience Reviews for From Justin To Kelly
I just like it, okay? The ridiculously stereotypical yet clinically wholesome spring break scene. The matching trios of friends made up of people who would normally never hang out together. The inconsequential socioeconomic sideplot. The skirt made out of ties. Yes, the story is formulaic and the acting is either under or overdone, but the costume design and dance choreography are legit cool. Kelly Clarkson is in great shape for the sweet (if bland) girl-next-door, and Justin is all big-haired faux-swagger as the reformed partyboy. It's all hokey as hell, but I just roll with it.
Alice Shen
Super Reviewer
You're better off just watch a music video of Kelly Clarkson or something.
Anyone who can make it through this movie, in its entirety, without fast forwarding or crying violently for long periods of time are in fact saints, and their miracles should be recognized by the church. This giant commercial for the series American Idol stars season one winner Kelly Clarkson and runner-up Justin Guarini as two star crossed lovers. The scene is set during spring break, on a beachfront somewhere Floridian, calling upon the Avalon and Funicello beach musicals of the sixties. Instead of the fun froth of those classics, we're given a series of songs and dance sequences that are reliant on the time period they are set: 2003. Let's remember that year in pop music and flinch at the fact we were all singing Clay Aiken's This is the Night, and move on. Besides the fact that the music isn't enjoyable (even in a guilty pleasure sort of way) and the acting is stale, the actual actors are annoying. Kelly's friends are air headed and uninvolved while Justin's are either pure sleaze without admonishment or cookie cutter dorky, the same sludge we've all seen a million times before. The only reason these two characters aren't together (though they spend a mili-second in each other's presence before falling in love, but I digress) is because of a plotting blonde friend, described as a "party girl" who isn't trying to change. There is no point to this, and because it's so lame brained and uninteresting, the surrounding sub-plots don't lend anything to the film except pith. The only redeeming value is Anika Noni Rose's singing voice, which would later be featured in the Oscar nominated Dreamgirls and The Princess and the Frog. Oh, and the title? I am clueless to its supposed charm. Not worth a curious glance, nor a runthrough.
Spencer S.
Super Reviewer
From Justin To Kelly Quotes
| | |
| --- | --- |
| Kaya: | What did you do? |
| Alexa: | Nothin'! |
| Kelly: | How could you do this to me? |
| Alexa: | I don't know. Kel, it's easy for you. I mean, you get people to see what you really are, and I-I've always been jealous. I know I shouldn't. I mean, we've been friends since forever, but... Kaya had a guy and you had Justin. I just felt like Miss Runner-Up. You have to believe that I did not mean to hurt you. I promise. I just-I just thought if I could get Justin like me, then... Maybe I can be as good as you. |
| Kelly: | You're nothing like me, Alexa. Because I would never do that to a friend. |
| | |
| --- | --- |
| Alexa: | I've tried my hardest to keep ya'll apart, you just kept gettin' back together... and I'm the queen of connivin'. |
| | |
| --- | --- |
| Kaya: | Heck, yeah! I mean 'hell yeah', I say hell all the time! Hell, hell, hell... hell. |
| | |
| --- | --- |
| Justin: | To break us up, Kelly! Listen, if anybody's gonna be mad around here, it should be me. You've been hot and cold. First, you're blowing me off, and then you're leaving me some messages. |
| Kelly: | What messages? |
| Justin: | That's exactly what I'm talking about. And you accuse me of being a player. Well, you're the one playing games, Kelly. You know that? Game over. |
Discussion Forum
Discuss From Justin To Kelly on our Movie forum!