Fullmetal Alchemist the Movie: Conqueror of Shamballa
(2005)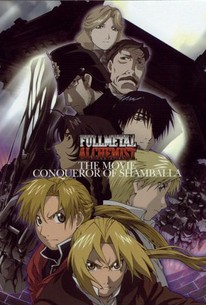 AUDIENCE SCORE
Critic Consensus: No consensus yet.
Fullmetal Alchemist the Movie: Conqueror of Shamballa Photos
Movie Info
Two brothers trapped in different worlds struggle to unlock the secrets that will bring them back together in this feature-length entry into the Full Metal Alchemist saga. The year is 1923, and the burgeoning Nazi party is slowly gaining a foothold in German politics. It's been two long years since Edward Elric's bold sacrifice found him thrust into the unfamiliar Earth realm, and as he continues to research rocketry in Munich alongside fellow researcher Alphons Heiderich -- a scientist who strangely resembles Ed's long-lost brother Al -- the slow progress leaves the discouraged Ed wondering if he'll ever see his brother again. But you never know what the future holds, and when Ed saves a psychic Gypsy girl, he quickly finds himself immersed in a plot by the mysterious Thule Society and the rising Nazi Party that threatens to thrust both Earth and his home planet into a horrible war. Little does Ed know that back on his home planet, his brother Al has been conducting a series of experiments in alchemy and mastering incredible powers in hopes of locating his desperate sibling. Though the combined forces of alchemy and science may indeed yield enough power to bring the brothers back together, the chaos that could follow threatens to cause more bloodshed than either Ed or Al ever imagined.
Critic Reviews for Fullmetal Alchemist the Movie: Conqueror of Shamballa
There are no critic reviews yet for Fullmetal Alchemist the Movie: Conqueror of Shamballa. Keep checking Rotten Tomatoes for updates!
Audience Reviews for Fullmetal Alchemist the Movie: Conqueror of Shamballa
Not as action packed as The Star of Milos but the story definitely flowed more smoothly. Since this one takes place right after FMA: OVA the story starting off mid-way felt more natural as opposed to Milos where you were wondering where it was continuing from. I loved finally being able to see the conclusion of the original FMA complete with all the drama and darkness that was in the series.
Remi Logan
Super Reviewer
2009 (ONLINE) A FANTASTIC way to finish off the series! The movie continues from the last episode of the series and fills in the gap where we thought it suddenly ended. This movie can be watched by anyone but,.. I do strongly recommend that you check out the series first before you watch this to get a proper understanding of what's going on in the movie. 'The Fullmetal Alchemist' is no doubt one of my favorite Anime series.
EightThirty .
Super Reviewer
½
A good continuation/conclusion of the FullMetal Alchemist saga, following up on the events that took place after the series ended. The animation and music was great as always and the story was quite good as well, especially as it smoothly tied up many loose ends. Altough I haven't seen all that many anime flicks in my life, this one is surely one of the best and most memorable.
Fullmetal Alchemist the Movie: Conqueror of Shamballa Quotes
There are no approved quotes yet for this movie.
Discussion Forum
Discuss Fullmetal Alchemist the Movie: Conqueror of Shamballa on our Movie forum!