Galaxina
(1980)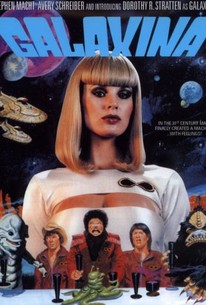 Movie Info
A handsome crewman on the starship Infinity falls in love with the beautiful pilot Galaxina, but there's one problem -- she's a robot. This sci-fi comedy parodies many popular science-fiction films as it follows the lovestruck crewman's attempts to transform Galaxina into a real woman.
Audience Reviews for Galaxina
½
Dorothy Stratten is the best part of the movie, though she is completely silent for most of the film. Hers is the only character with any development arc, and most of the rest of the crew are both leering and flat characters, only some of which even have enough characterization to be stereotypes. The costumes, prosthetics, props and sets are decent, neither low-quality nor high-budget. There are some funny moments, but also many jokes that fall flat. Possibly the humor is simply dated
Bee B
This is was Dorothy Stratten's only movie as a star. It's a boring movie spoof of about all the Sci Fi movies made before 1980. She plays an android that runs a space ship. Most of the movie she wears a white cat suit. She doesn't talk until the last half of the movie. The special effects are cheap Star Trek TV show type of effects. The jokes are all based on old Sci Fi movies and aren't funny if you are unfamiliar with the old movies and even then they aren't funny. The movie is rated R because of the sexual nature of the jokes and one scene with a blurry topless girl in a very bad hologram. At the alien house of prostitution there are paintings of topless women. Dorothy Stratten keeps her clothes on the whole movie. During the meal scenes she's in a sexy maid costume. When she talks for the first time she's wearing a white negligee. Avery Schreiber plays the ship's Capitan. He was a good comedian in the 1960's. He's not that funny in this movie. There is not a single good line in the whole movie.
Donald White
To say that Galaxina fails at everything, is actually an understatement. This sci-fi spoof actually looks pretty good but it fails miserably at humor, references, acting, dialogues and dear lord what the fuck were they thinking with the pacing of this. NOTHING happens for literally 30 minutes. NOTHING. And when it does, you just want it to finnish and end your misery in the process. Hell, the titular character is not even the main characters and only utter two or three sentences on the whole movie. She's kinda hot though, as a playmate, she's actually fine and I can't say that for 90% of other Playboy bunnies. Yes, I ended up a review praising a Playmate for being of my liking, I really can't find many positive things in this, sorry.
Francisco Godinho
Super Reviewer
Galaxina Quotes
There are no approved quotes yet for this movie.
Discussion Forum
Discuss Galaxina on our Movie forum!