Gamera vs. Zigra
(1971)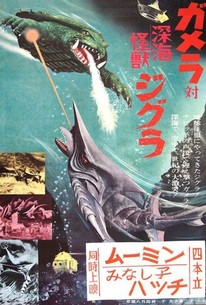 AUDIENCE SCORE
Critic Consensus: No consensus yet.
Movie Info
In this film, Gamera braves death to valiantly battle a group of evil aliens who want to take over the planet.
Critic Reviews for Gamera vs. Zigra
All Critics (2) | Fresh (0) | Rotten (2) | DVD (1)
A long, directionless, life-stealing amble through a plot that just never, ever starts to make sense.
The film entire isn't nearly as much fun as it should be, but for those with a cheeky fondness for city-scale monster mashes, there are some fleeting pleasures.
Audience Reviews for Gamera vs. Zigra
They stopped caring about whether they should utilise their budget or not. Gamera's fight barely lasted 5 minutes. The story was essentially the same as previous instalment: Annoying kid doing stupid things and got himself into trouble, suddenly reporters want to know what's up, kid being smarter than every single adult in Japan, Gamera fights and credit roll. It went all scooby-doo this time, at least laughable.
Sylvester Kuo
Super Reviewer
The last Gamera movie I saw was Gamera vs. Jiger, which I gave a 50% and I hoped the filmmakers were going to take it in the right direction for the next entry. I was sadly wronged and it takes a huge step backwards. Gamera vs. Zigra is about "space aliens" who arrive on Earth with their giant shark looking monster and intend to take over the planet. There's a recurring theme in these campy and kid friendly Gamera which is that the aliens look like humans. I wouldn't have a problem with the aliens looking like humans, but it been done to death by this series and it's incredibly lazy to reuse plot thread. The dubbing is most annoying I've heard in a long time, especially from the kids. Which remind me the kids are also a recurring theme in the series, and they serve no purpose in this entry other than to pad out this mess longer than necessary. I love kids, but the little girl in this movie really got on nerves because she wanted Coca-Cola. Even when she got abducted by aliens she got mad because she didn't get Coca-Cola from the aliens. Than when she conscious and wakes up minutes later, the first she said is that she wants Coca-Cola. Product placement in a monster? Yup, because nothing says good marketing than a flick about a giant turtle battling a talking shark like monster. It's too campy and lighthearted for adults viewers who will most likely turn it off in the first ten minutes. You think with so many made the filmmakers would improve their storytelling abilities, but they simply get worse. Oh Gamera what happened to you? You use to be so much fun, but now every time you appear your campy theme song play which makes my ears cry. They turned you into a joke, they actually made you play music using what looks like a giant chicken wig and hitting the monster with it. Than they made you dance afterwards, truly humiliating even for you Gamera considering you water ski using a giant Octopus. Zigra is one pathetic monster. Not only could it talk, but Zigra provides what is the worst monster rumble in the series. Want to know how Gamera wins? Gamera picks up a rock and throws it at Zigra nose, you can't imagine how disappointing this was. One question to the filmmakers. How did Gamera breathe fire under water? That's really implausible, even for this series. Gamera vs. Zigra is joyless monster flick in the long running Gamera series that even makes the monster boring.
Caesar Mendez
Super Reviewer
½
The effects are Z-grade and their is barely any monster action until 50 minutes in. Zigra is probably one of Gamera's least impressive opponents. Zigra keeps saying (yes, he can talk) how he is going to take over the world yet he never does anything exciting like Gamera's other foes. The alien invasion plot is nothing special and very stupid. The movie has an environmental tone like Godzilla vs The Smog Monster (they actually came out the same year in Japan) but it comes off as very annoyingly preachy. Another annoying aspect of the film are the kids because they are so incompetent. If your a person that is in the mood for a shamelessly campy flick then you won't be disappointed, otherwise stay away.
Christopher Heim
Super Reviewer
Gamera vs. Zigra Quotes
There are no approved quotes yet for this movie.