Gangland
(2001)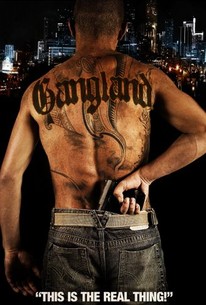 AUDIENCE SCORE
Critic Consensus: No consensus yet.
Movie Info
Three brave warriors take on a street gang that's taken control of a post-apocalyptic metropolis in this sci-fi action thriller. In the year 2010, civilization has been crushed by global thermonuclear war, and as anarchy spreads, two remaining police officers (Ice-T and Coolio) attempt to keep order. A group of thugs and criminals calling themselves the Ganglanders have taken control of the city, with psychotic Lucifer (Vincent Klyn) as their leader. A deadly flesh-eating disease is sweeping the city, and scientist Dr. Adams (Tim Thomerson) may have discovered a cure; when word gets out about the doctor's research, Lucifer and his henchmen kidnap Adams, realizing the cure could be a powerful bargaining chip in crushing any final opposition to their plans. Jared (Costas Mandylor) is a former military hero whose wife and children were killed by Lucifer and his Ganglanders; eager to get revenge and save the lives of those suffering from the plague tearing apart the city, Jared and two martial arts experts, Derek (Sasha Mitchell) and Alexis (Kathleen Kinmont), team up to rescue Adams and bring down the Ganglanders.
Critic Reviews for Gangland
There are no critic reviews yet for Gangland. Keep checking Rotten Tomatoes for updates!
Audience Reviews for Gangland
What the Hell is this A Comedy. Very bad not in the good way. Netflix has this on instant watch. Terrible story and acting. Sad reason for a movie. Don't watch even if you're bored.
les thurman
In one of the worst/best movies you will ever see, Ice-T and Coolio (who get top billing on the DVD cover) die within the first 3 minutes of the movie. What follows is a painful and hilarious unfolding of a post-apocalyptic tale (which is made obvious by the serene setting of green grass, trees, and lakes). Sasha Mitchell (remember him as Cody from TGIF's "Step By Step"?) is the MVP of this flick and pretty much guarantees that he will never be taken seriously by Hollywood ever again. I highly recommend this to anyone hanging out at a friend's apartment getting drunk or high (uh...on life of course). I couldn't write such bad dialogue if I tried: "What I lack in brute strength, I make up for in speed and agility." Yeah...obviously the writers have been playing "Streets of Rage" too much.
John Wu
Gangland Quotes
There are no approved quotes yet for this movie.
Discussion Forum
Discuss Gangland on our Movie forum!