Ragnarok
(2014)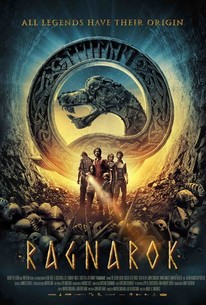 Movie Info
An archeologist is convinced the Oseberg Viking ship contains the answer to the mystery of Ragnarok, the end of days in Norse mythology. He mounts an expedition to "No Man's Land" between Norway and Russia, which holds a secret more terrifying than he could possibly imagine. (C) Magnolia
News & Interviews for Ragnarok
Critic Reviews for Ragnarok
Audience Reviews for Ragnarok
½
This decent Norwegian take on a monster movie plus treasure hunt for the whole family obviously borrows a lot from Jurassic Park and Raiders of the Lost Ark but doesn't disappoint, with the kind of adventure-turned-nightmare to be expected and good performances.
Carlos Magalhães
Super Reviewer
½
This was almost a good monster film. Honestly, this really feels like a Norwegian version of Jurassic Park and not nearly as good to be honest. Admittedly, the film does have its own twist, given that it focuses on Nordic mythology and Viking culture. That makes it somewhat different, but it's still really similar to it. That's not the only reason I found the film to be lacking though, because if your film is at least good, even if it borrows heavily from a famous film, then I wouldn't have as much of a problem. I just think the film, even though it's skillfully made, well-acted, and has strong monster CG, is just poorly paced. It's not necessarily that the it takes more than half of the film before the monster shows up, Jaws is proof that this can work if done right, it's just the fact that there's no real sense of exploration, discovery, and/or adventure that the film probably wanted to have. Out of all the things to borrow from Jurassic Park, they forgot the most important...the adventure. The film certainly tries, but it just doesn't work as well as the film probably would've intended. I don't mean to suggest that the film is bad, far from it, I just think it's more disappointing than anything else. It had all the elements going for it, but it just missed the mark on probably the most important element a film like this, where you wait a long time before you show the monster. Outside of the lack of adventure, which can be tied to what I'm about to say, the movie just isn't as interesting as it should be prior to the appearance of the monster. I'm just gonna come right out and say that the film was downright boring, it just was. Cliched, and uninteresting, character development is the order of the day. Things definitely pick up once the monster arrives. Again, it's not that there's not enough of the monster in the film, it's just that there's not enough interesting stuff going on prior to its arrival. Seems like a logical complaint to me. The film is well-made, the acting is above average, and the monster effects are good, as I've already mentioned. The film still lacks heart, story, and interesting characters. Therefore, that makes this an average film. You'd do best to watch The Host instead..or the newest Godzilla film.
Jesse Ortega
Super Reviewer
½
Exciting and well put together adventure story from Norway. Solid direction and strong script writing (for the genre). Commendable performances by Pål Sverre Hagen and Nicolai Cleve Broch -- and even decent performances by the child actors. It's a thoroughly enjoyable film.
Christian C
Super Reviewer
Ragnarok Quotes
There are no approved quotes yet for this movie.