Gendernauts
(2000)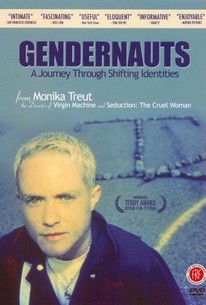 AUDIENCE SCORE
Critic Consensus: No consensus yet.
Movie Info
Treut's newest film "Gendernauts" takes her to the Bay Area of San Francisco, the proclaimed mecca of gender fluidity, to explore "cyborgs" people who alter their bodies and minds with new technologies and chemistry in "gender elimination phenomena." She introduces us to San Francisco's leading gender mixers who have made the change from female to male or male to female. Treut records the hormone treatments, love stories, and lifestyles with performance and video/web artist Jordy Jones-who created a website devoted to Brandon Teena in the early 1990s. Sandy Stone, self-proclaimed "Goddess of Cyberspace" and author of "The War of Technology and Desire at the Close of the Mechanical Age", along with author and transgender expert Susan Stryker, provides an academic perspective for the film. Interviews with video artists Stafford and Texas Tomboy give insight into the day-to-day lives and create expressions of transgendered people. Ex Penthouse centerfold model Tornado, who has been a lover to some transgenders and a surrogate mom to others, and sex goddess Annie Sprinkle explain their long-standing support of transgender people. We also meet Hida, an intersexed (hermaphrodite) woman, and founder of ISNA, the Intersex Organization of North America, who happily inhabits the middle ground between male and female. We view subjects of "Gendernauts" as they undergo regular estrogen and testosterone treatments under the supervision of the Transgender Clinic, as well as celebrating at Club Confidential.
Critic Reviews for Gendernauts
There are no critic reviews yet for Gendernauts. Keep checking Rotten Tomatoes for updates!
Audience Reviews for Gendernauts
½
Another movie I added. Great doc exploring the lives and thoughts of a range of transgender and transsexual people. As a documentary, very personal and artistically edited (for the better). The synopsis for this is misleading. The director may be reaching for some sort of futuristic theme, but yet another director has no idea that being trans is not a new thing and not as interesting as everyone thinks it is, but that doesn't matter because she picked great people to interview: trans people who know how to avoid that exploitative bullshit and really reveal just their general thoughts on life with the trans thing as a sidenote, albeit a large one, which is how it is in real life.
_kelly .King
Super Reviewer
Gendernauts Quotes
There are no approved quotes yet for this movie.