Get Christie Love!
(1974)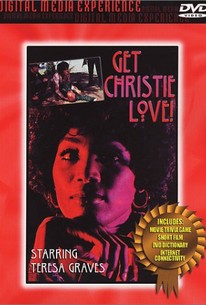 AUDIENCE SCORE
Critic Consensus: No consensus yet.
Get Christie Love! Photos
Movie Info
The Dorothy Uhnak novel The Ledger was the basis of Get Christie Love! The title character, played by former Laugh-In regular Teresa Graves, is the first black woman to be hired by a big-city police force. Christie Love proves her value to her fellow officers by going undercover to smash a drug ring. First telecast January 22, 1974, Get Christie Love! served as the pilot film for the weekly TV series of the same name. That series ran from September 11, 1974 until July 18, 1975.
Audience Reviews for Get Christie Love!
This was a made for TV movie intended as a pilot for the Get Christie Love TV show. I remember the TV show. It was ABC's answer to compete with NBC's Police Woman with Angie Dickenson. It was a lot like Police Woman but only lasted one season. I liked it but it didn't last. I also remember Teresa Graves on Laugh-in. She was one of the Bikini girls along with Goldie Hawn that had punch lines painted all over their bodies. ABC thought they could capitalize on the popularity of the Pam Grier movies. The story for the pilot was based on a book by Dorothy Uhnak. You can still buy the book on Amazon. The police woman in the book was white and the story really didn't fit the mold of a Blackplotation movie. All they did was change the last name of the character and had a black woman play the part. The book was based on a call girl witnessing a murder and the police trying to get her to testify against a gangster. There was no murder in the TV movie. They were trying to stop a drug shipment. The actress playing the part of the call girl didn't make a good call girl. She seemed more like a well educated society lady. She was better as Captain Kirk's android love interest. A couple of the scenes with Christie and her boss in front of her apartment would be considered borderline sexual harassment today. I've got this movie on DVD but the sound quality of the DVD is really bad. I had to put on head phones to hear the dialog. My other DVD's don't have that problem.
Donald White
½
A film with this kind of premise would usually end up being terrible, especially for a made-for-TV film. However, thanks to plenty of cheesy moments, Teresa Graves' solid performance, and one very solid drama scene near the end make it fun visit to 70's blaxploitation films. However, this is only a film for people who enjoy blaxploitation films or just cheesy films in general.
Keenan Sullivan
I haven't seen a Pan Grier movie yet to compare to this. I didn't think it was too bad though. So, this made-for-TV movie led to one season of a TV series and as expected with TV censors it was much tamer than the low budget blaxploitation flicks coming out at the time. Still Teresa Graves was smart and beautiful in this picture as she works undercover to outsmart drug runners and suppliers.
Byron Brubaker
Super Reviewer
Get Christie Love! Quotes
There are no approved quotes yet for this movie.
Discussion Forum
Discuss Get Christie Love! on our Movie forum!