Minnâ-yatteruka! (Getting Any?)
(1995)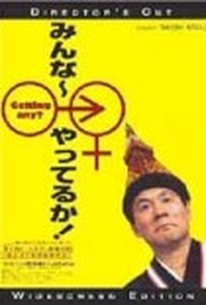 AUDIENCE SCORE
Critic Consensus: No consensus yet.
Movie Info
Takeshi Kitano made an international name for himself for directing films of great emotional subtlety and technical innovation such as Hana-Bi and Sonatine. This film displays none of those traits. Directed under his comedian moniker "Beat Takeshi," Kitano displays the bawdy schtick that made him famous with this gleefully stupid tale about one man's attempt at getting laid. Asao (Dannkann) wakes up one morning from a dream in which he's seen as a hipster shagging a beautiful woman in the back of a really cool car. He immediately sets out to the local car dealership and asks the salesman which vehicle would be best suited for "car sex." Soon he exits the lot with a little sportster and promptly fails at picking up a cute girl he sees on the street. After a series of comic mishaps, ending finally with this car getting crushed by a truck, he goes to plan B -- to steal enough money to fly first class and test his seductive luck with the stewardesses. When robbing a bank fails, he takes up acting in a Zatoichi-like samurai film only to accidentally dump dung on every one of his fellow actors. Finally, after humiliating and exhausting himself trying to get the attention of the opposite sex, he tries to become invisible and embark on a career as a peeping tom. Improbably, he does, getting more than he bargained for. ~ Jonathan Crow, Rovi
Critic Reviews for Minnâ-yatteruka! (Getting Any?)
There are no critic reviews yet for Minnâ-yatteruka! (Getting Any?). Keep checking Rotten Tomatoes for updates!
Audience Reviews for Minnâ-yatteruka! (Getting Any?)
½
Before directing Takeshi Kitano was well known in Japan as one half of the incredibly popular stand up comedy duo 'The Two Beats'. Upon the disbanding of the duo Kitano moved on to more serious filmic ventures, creating a range of dark, nihilistic yakuza films between the years of 1989 and 1993. In 1995, however, following his suicide attempt Kitano returned to his "beat" roots, and released the slapstick comedy 'Getting Any?'. Received incredibly well in it's home country 'Getting Any' was the biggest success of Kitano's first 5 features. The plot follows Dankan, a social loser obsessed with the idea that if he is to have sex he must first own a car, as no woman can resist a man with a car. The narrative is incredibly episodic, with Dankan jumping from one ridiculous situation to another; in this sense the film feels like a feature length sketch show, with some of the jokes landing and others not. As the film continues it moves more and more into the realm of stupidity, leaving any semblance of character development and believability far behind. Dankan becomes an actor, a hit-man and half fly over the over-long 100 minute running time and, although never completely boring the film begins to feel tiresome as it nears its finale. Overall 'Getting Any?' is the weakest I've seen Kitano and puts an end to the director's spree of touching, brilliant cinema (which thankfully later returns). I'd only recommend this if you're a big Kitano fan.
Cameron Sherwell
Super Reviewer
Not one of Takeshi Kitano's usual slow-burning ganster dramas that he's most famous for in the west but how the Japanese know him , as a TV host and comedian. GETTING ANY is a slapstick shaggydog comedy about an inadequate man's efforts to get some car sex (or plane sex, whichevers easiest). The adventures come thick and fast as one ludicrous situation spins off into another...by the end of the film I'm not entirely sure how we got from there to here, but the ride was definitely fun.
Minnâ-yatteruka! (Getting Any?) Quotes
There are no approved quotes yet for this movie.