Seventh Moon
(2008)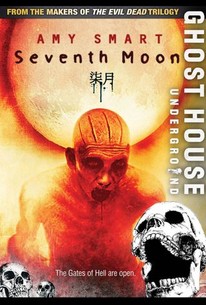 AUDIENCE SCORE
Critic Consensus: No consensus yet.
Movie Info
A romantic trip to China turns into a lunar nightmare for a pair of happy newlyweds when their taxi driver ditches them in a remote village, and the locals offer them up as sacrifices for the menacing moon creatures that return to Earth annually to replenish their ranks. According to Chinese legend, the dead return to Earth on the seventh month of the lunar year, when the moon glows full in the night sky. America-born Yul (Tim Chiou) and his new wife Melissa (Amy Smart) had just arrived in China to meet Yul's family when their idyllic getaway takes a sudden turn for the worse. When night falls and their tour guide leaves them stranded in a darkened, boarded-up village, Yul and Amy quickly realize that this wasn't a planned stop. Once a year, the lunar creatures return to Earth in search of a sacrifice. Yul and Amy have just been offered up, and now in order to avoid being assimilated into the collective that pursues them through the darkened forest, they will have to survive until the morning light casts the frightful beasts back to the moon for another year. ~ Jason Buchanan, Rovi
Critic Reviews for Seventh Moon
All Critics (2) | Fresh (1) | Rotten (1)
...a missed opportunity that squanders the relatively promising nature of its setup.
Seventh Moon is a badass and at times downright chilling little movie
Audience Reviews for Seventh Moon
½
This movie is from the Ghosthouse Underground collection. Its one of the better ones I have seen so far. About a couple hat honeymoons in China (first mistake) (not going but getting married). While in a cab there taxi driver leaves them in middle of no where in a strange village. Where the local people offer them up to the undead. Kind of a Asian Zombie Movie. Its worth 4 1/2 stars.
Bruce Bruce
Super Reviewer
Ok horror fave from one of the guys who made the bliair witch project.Not overly great but moves along at a steady pace once the action starts.The Ghosts come zombies are scary enough and gives the movie its real scares.The only main problem is the out of control camera work which sometime make the whole thing impossible to watch or knowing whats going on.Apart from that its good enough fave but dont expect to much.
Brian De Guelle
Super Reviewer
An oddly alluring horror flick; it's pretty middling genre fare no matter how you look at it, not terribly scary, and the camera work is aggravating (the director is the man behind The Blair Witch Project, and here his shaky hand is an unwelcome presence). You get to care about the characters, however, and the setting/concept of the film allow for a few unique creative flourishes. Maybe ancient Chinese legends and ritual sacrifices are just cool in my book alone, and Seventh Moon has absolutely nothing to offer, but I found it to be an interesting point to jump into the film from. Amy Smart is believable here and she really seems to give it her all, and her bro-ish Asian boyfriend is an agreeable match for her. This might all be invalidated by the fact that I was pretty tipsy when I watched it, but frankly my friend and I threw it on to laugh at it and were both silenced fairly quickly, so I'm really not sure.
Drew Smith
Super Reviewer
Seventh Moon Quotes
There are no approved quotes yet for this movie.