The Giant Claw
(1957)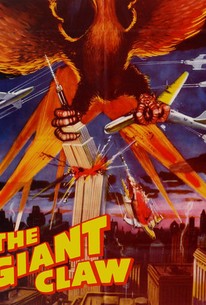 AUDIENCE SCORE
Critic Consensus: No consensus yet.
Movie Info
With wires barely showing to the naked eye, a gigantic low-budget bird from outer space swoops down, lays an egg on Quebec and threatens to destroy New York City until two romantically involved scientists team up with the US Air Force to stop it. Old-fashioned '50s horror movie fun.
News & Interviews for The Giant Claw
Critic Reviews for The Giant Claw
Audience Reviews for The Giant Claw
Have you ever heard of a movie that's so bad that it's good? Well, this is one of them. Jeff Morrow stars in this crazy movie about a giant mutant bird from outer-space protected by a force field and it's terrorizing Earth. The film is one of many invader movies released in the 50's and it's obviously the most ridiculous in my opinion. It does have cheesy dialogue, questionable acting and a goofy concept, but it's notorious for the design of the giant bird. Take one look at it and you'll be laughing your ass off. It looks like the love child of Gonzo from the Muppets and Beaky Buzzard. I doubt if people actually were scared of it when it first came out. The design is just flat out ridiculous. Look it up on Google images or Youtube, you have to see what the bird looks like. It's a puppet held up by strings which was a basic move for the time and I actually like that. The fact that a model of this thing exists and it's not an image created by a computer is pretty awesome. You can criticize the movie all you want, but it's a movie that can't be missed. Copies of the movie are hard to find, but I got lucky and found one on Amazon...for $110.00. I could've used that money for something more important, but no, I bought a campy monster movie...and it was worth it.
Tyler Robertson
Super Reviewer
This movie is amazing... It's like like Plan Nine...only with Bird Bird on PCP
Ken Stachnik
Super Reviewer
completely ridiculous! and very entertaining! the monster looks like gonzo from the muppets
Stella Dallas
Super Reviewer
The Giant Claw Quotes
| | |
| --- | --- |
| Sally Caldwell: | Oh, come off it, Mitch, you've done enough harm with your flying Battleship... |
Discussion Forum
Discuss The Giant Claw on our Movie forum!