Giants of Thessaly
(1960)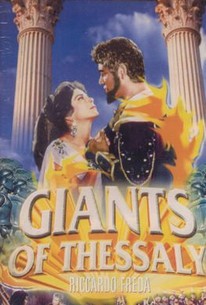 AUDIENCE SCORE
Critic Consensus: No consensus yet.
Movie Info
Roland Carey and Massimo Girotti star in this epic retelling of the saga involving Jason and the Argonauts from director (Riccardo Freda). Jason (Roland Carey), who is indebted to the gods, must step into action after a group of invaders and ecological disasters beseige the land of Thessaly. While Jason assembles his men to capture the Golden Fleece as an act of goodwill, a turncoast at home named Adrasto (Alberto Farnese) threatens to still his empire away from him.
Critic Reviews for Giants of Thessaly
There are no critic reviews yet for Giants of Thessaly. Keep checking Rotten Tomatoes for updates!
Audience Reviews for Giants of Thessaly
½
While King Jason (Carey) sails around the ancient world with a shipful of whiners in leather shorts to find the Golden Fleece and save the land of Thessaly from destruction, his treacherous regent (Farnese) is eyeing not only his throne but also his hot wife (Duca). "The Giants of Thessaly" is a terminally dull retelling of the epic aventure tale of Jason and the Argonauts. Who knew that all excitement could be so thoroughly sucked out of such rich material? Who knew that 80 minutes could seem so damn long? From Roland Carey's utterly bland Jason, through a dull trip to Circe's island, onto one the abolute worst cyclopse costumes to appear outside of a grade school drama club, and onto a lame retreival of the Fleece, and a badly executed final battle, there is very little good to say about what should be the highlights of this movie. Instead, each should-have-been set piece action scene is worse than the one that went before, making the whole film is a steady downward spiral from beginning to the miserable end. (I always thought that the guys that both Jason and Odysseus had to deal with on their journeys were a bunch of whiny, ungrateful bitches. They've never been portrayed with greater accuracy in than in this film, nor have they ever been more annoying.) The only things worthwhile here is the costume design (which is a little more consistant here than in most Italian "sword and sandal" flicks, even if it screams "fantasy realm" instead of ancient Greece) and a well done musical score. Giants of Thessaly (aka "The Argonauts") Starring: Roland Carey, Alberto Farnese, Ziva Rodan, Nadine Duca, and Massimo Girotti Director: Riccardo Freda
Steve Miller
Giants of Thessaly Quotes
There are no approved quotes yet for this movie.
Discussion Forum
Discuss Giants of Thessaly on our Movie forum!