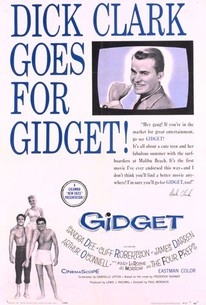 Gidget
1959, Romance/Comedy, 1h 35m
11 Reviews
5,000+ Ratings
Where to watch
Rent/buy
Rent/buy
Rent/buy
Rate And Review
Movie Info
Diminutive teenager Francie Lawrence (Sandra Dee) has a bunch of boy-crazy friends, but she could care less about boys. That is, until she goes to the beach one day and meets surfer Jeffrey "Moondoggie" Matthews (James Darren) and his friends, including Burt "The Big Kahuna" Vail (Cliff Robertson). Now, Francie, whom the boys call "Gidget" -- short for girl midget -- wants to learn how to surf, so she buys a used board and dives into the sunny world of Southern California surfing fever.
News & Interviews for Gidget
Audience Reviews for Gidget
A very innocent and cute film. I'm not a surfer nor do I want to be so theirs not much I can say about this one. Except for how good it was in every aspect of film making. The writing was okay. Their was nothing special or something that would stick in your head. The story itself is a good one. It's mostly about acceptance and coming of age. So if your a young girl that likes to surf, watch this. It would probably be one of your favorites. The directing was not special. It was okay, it did a good job on capturing the visual beauty of the ocean but that's about it. The acting was decent. Once again, nothing too special but it's not like the acting had you crying. Their was a real cuteness to the acting style present in this film. The production values have to be the best part. Very well put together. Overall, this film is visually beautiful with a cuteness atmosphere. You could literally catch some waves on it. I would recommend this film to people that like stunning classics.

This movie was the beginning of the surfing movie trend of the 60s, I think, and a classic teen film. It's not a great movie, but I liked it anyway.

A real bit of you-had-to-have-been-there Americana...the earnest yet perky late Sandra Dee (the image of Doris Day, only younger), old school hunky-w/o-the-steroids James Darren, and Cliff Robertson as the Big Kahuna (yep, this is where that expression enters the American lexicon, baby!), together again for the first time in the 1960's first coming-of-age beach story starring and starting America's dream infatuationn with the girl/midget...and uhh, surfing. Yeah, surfing too. And surf music.

Good ol' fashion presque-60s superfun. You have to love Sandra Dee, she's the absolute ultimate. It's not an amazing movie but it's a classic. Apparently it's the film the kick started the surf movie craze. What's the best part in the film is twice when James Darren, or "Moondoggie", busts into the Gidget theme song, which is just the misogynist cherry stuck on the top of the 'traditional values' sunday of this movie. "She may not be king sized but her finger still ring sized/ Gidget is the one for me."
See Details