Gimme Shelter
(1970)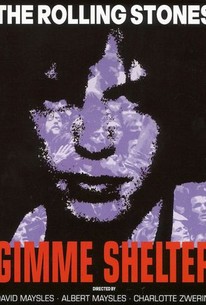 Movie Info
The original rude boys of British rock, The Rolling Stones, tour America, culminating in a death at Altamont.
News & Interviews for Gimme Shelter
Critic Reviews for Gimme Shelter
Audience Reviews for Gimme Shelter
Riveting, thought provoking, chaotic and above all unforgettable, Gimme Shelter is a flawless documentary about the tragic free concert at the Altamont Speedway on December 6th, 1969 that was held by The Rolling Stones. The concert's security was The Hell's Angels Motorcycle Club, and they brutalized concert goers and members of various bands. Throughout the concert, The Hell's Angels stabbed a concert goer who had a gun. The footage you see here is unlike anything you've ever seen. Brilliantly shot with camera work that is raw, gritty and in your face. Here is a documentary take puts you right in the middle of the chaos and for that it is truly an outstanding piece of work. This is a concert that should have gone off without a hitch, but it didn't. What should have been a fun day quickly turned into a nightmare. The concert goers didn't deserve to be treated as such, and it is truly a disturbing, yet necessary picture that is among the finest rock documentaries ever made. I really loved the film, and I felt that it is an important picture that is brilliant, flawless in its execution and it shows something that you would normally never see. Altamont was a nightmare, disaster and utter chaos of that concert. Only Woodstock 1999 would be just as bad, even worse. But before Woodstock 99, there was Altamont. Gimme Shelter is a film experience that you won't forget, but be warned, this film is intense and the footage is real, all too real. The concert proved one thing, a lack of inexperienced security can ruin something as fun and memorable concert. Violent bikers are not a good idea for security and this film shows exactly that. Gimme Shelter is easily the finest rock documentary ever made, and it shows the ugly side of what can go wrong during a concert. Truly memorable.
Scary and insane, this catastrophic show it's very good directed by the Maysles Brothers and Charlotte Zwerin. Gimme Shelter is an agonizing documentary with unforgettable footages of a tragic Woodstock, with a powerful shock of different minds and behavior. Shocking and unique.
Lucas Martins
Super Reviewer
A stunning time capsule, capturing it's era perfectly. At times you forget that it is at it's core a Rolling Stones concert film, due to the fact that a lot of time is dedicated to observing the setup and crowd (hippy excess and Hell's Angels confusion/brutality). The fact that the Maysles' were able to capture on film what they did (the infamous stabbing and the end of flower-child ideals) is nothing short of extraordinary. Then there's the Stones! A must for fans of Jagger and company and flawless documentary filmmaking.
Gimme Shelter Quotes
There are no approved quotes yet for this movie.