Girl 27
(2007)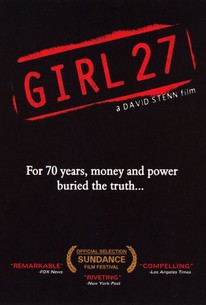 Movie Info
In 1937, Patricia Douglas was a 20-year-old living in Hollywood with her mother, a dressmaker. Patricia was a talented dancer who had landed bit parts in several movies when she was hired for what she was told would be a day's work at the Hal Roach Studios in a project for Metro-Goldwyn-Mayer. However, the truth was Patricia was one of 120 young woman hired as hostesses for a wild party being thrown by MGM for 282 regional sales men from distribution branches around the country. The evening turned into a drunken free-for-all, and Patricia was raped by a salesman from Chicago. MGM was determined to keep the incident quiet, but Patricia was equally determined to bring her attacker to justice and see that the most powerful studio in Hollywood was held accountable. While Patricia Douglas' story was briefly national news, MGM used their considerable influence to discredit Patricia and wipe the incident from their official records, but in 2003 writer David Stenn tracked down Patricia and interviewed her for a major story on the forgotten scandal published in Vanity Fair. Girl 27 marks Stenn's debut as a documentary filmmaker, as he brings this story of Hollywood's seedy underside to the screen. Girl 27 was screened in competition at the 2007 Sundance Film Festival.
Critic Reviews for Girl 27
Audience Reviews for Girl 27
½
Raining on the idea of the golden age of Hollywood, this is the story of a young girl who is raped at an MGM party, whose name the studio smears and libels, and who subsequently disappears.
½
Harrowing, sad story of how an unconscionable act covered up by an all mighty studio system basically crushed and twisted an innocent young woman into a frigid, completely shut down woman. Interesting side stories too. The only small issue is that the film maker, who obviously feels strongly about the case, inserts himself into the film a bit too much.
A very good documentary about the seediness of old Hollywood. I was amazed at all the old footage that was available for this story and it really brought the past to life. Definitely recommended for those interested in the past Hollywood.
Jason Spencer
Super Reviewer
Girl 27 Quotes
There are no approved quotes yet for this movie.