Girls Can't Swim
(2002)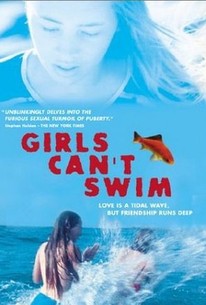 Movie Info
Two teenage girls find their interests and attractions taking decidedly different directions as they mature in this coming-of-age drama from France. Gwen (Isild Le Besco) is a 15-year-old growing up quickly in a French coastal town, where her open-minded mother Celine (Pascale Bussieres) and father Alain (Pascal Eslo) give her free reign. Gwen has already developed a keen appreciation for the opposite sex, and while she's initially upset when she learns that her close friend Lise (Karen Alyx) will not -- as she normally does -- come with her family from Paris to spend the summer at the beach, she takes the news in stride and pays little mind to her friend's misfortunes. As it turns out, Lise's father walked out on the family ten years ago, and they've received word that he has died, which proves highly traumatic for both Lise and her mother (Marie Riviere). Needing to get away from her home, Lise hops a train to the coast and pays Gwen a visit, but she soon discovers that her friend is more interested in the local boys than in Lise's recent problems. Gwen, on the other hand, senses that Lise's interest in her may be growing beyond simple friendship. Les Filles Ne Savent Pas Nager was the debut feature from director Anne-Sophie Birot, and was enthusiastically received at the 2000 Montreal World Film Festival.
Critic Reviews for Girls Can't Swim
Audience Reviews for Girls Can't Swim
½
Two best friends that have been separated look forward to spending the summer together. All's not as well as it first appears though. Gwen is a confused girl who uses her sexuality to embrace some sort of acceptance missing from her mother and father. Lise is emotionally repressed, even being told not to cry after her father's death. It's a film that captures those awkward moments of youth, friends one minute and then arguing the next, but never really explores them. The film keeps the audience interested with the different twists and turns but mostly it is how each character deals with situations that become the most exciting part. Gwen's father is the most conflicted of all characters as he drunkenly tries to do what is right for his family and get in his estranged wifes good books once again. At the same time he is also trying to be a strict father to a promiscuous daughter and a father figure to a girl who has lost her own. Not everybody, but certainly for those who like slightly dark and awkward cinema.
Luke Baldock
Super Reviewer
Girls Can't Swim Quotes
There are no approved quotes yet for this movie.