Glass: A Portrait of Philip in Twelve Parts
(2008)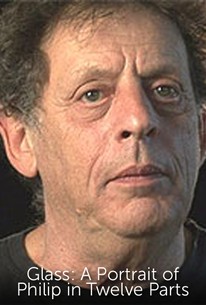 Glass: A Portrait of Philip in Twelve Parts Videos
Glass: A Portrait of Philip in Twelve Parts Photos
Movie Info
Shine director Scott Hicks documents a year in the life of prolific composer Philip Glass in order to explore the work that goes into creating a symphony and offer a detailed overview of his subject's remarkable career. Glass may be a composer whose name is virtually synonymous with the minimalist music movement, but one shouldn't be so quick to pigeonhole the composer. A musician who is outwardly confident and at times unpredictable, Glass works tirelessly to create a composition entitled Symphony No. 8 for orchestra, as well as an opera entitled Waiting for the Barbarians. Additional conversations with Glass's family and friends highlight how the composer is able to retain his creative spirit while simultaneously remaining a devoted family man. ~ Jason Buchanan, Rovi
Critic Reviews for Glass: A Portrait of Philip in Twelve Parts
Audience Reviews for Glass: A Portrait of Philip in Twelve Parts
½
This was an interesting look into the life of a very diverse composer. Going beyond the glory, it shows the hard work that Philip Glass puts into each composition, his messy lifestyle, the strains on his marriage, and the impressive number of projects that he constantly undertakes, even at age 70! I like the form of the piece, split into twelve parts and appropriately organized like the music of this composer. This is a great documentary for anyone who has an interest in Glass's unique minimalistic/repetative style or who would like to take a look into the world of a composer.
Jonny Priano
Spending Time With America's Most Distinctive Composer We talked Glass last week, I know. I'm not entirely sure what I can say now that I didn't say then; I have a feeling we're going to delve into "personal orchestra anecdotes" once again; I am a marvel to my old friends for remembering all this stuff. With a little effort, I could probably even manage to play fragments of the music we learned back then. However, there are also things to say about Philip Glass which I don't think I touched on last time. For example, the more I think about it, the more I realize that Philip Glass is on the list of composers identifiable no matter what instrument the music is played on. You know Danny Elfman by his spectral choirs and John Williams by his brass, but John Williams once wrote a score primarily for marimba and vibes, and it didn't really sound as much like John Williams. I can doubtless point out Elfman scores that don't sound like Elfman. But you can score Glass for sitar, trumpet, piano, viola, theremin--and it's all Glass. This, however, is as much about Philip Glass the man as Philip Glass the composer. Oh, naturally, you cannot discuss one without the other, just as you cannot discuss Mark Twain, another distinctive American artist, without talking about the writing. However, it is a much more intimate study than that. There is a great deal of his personal life on display here, though alas they do not interview his old Julliard friend Peter Schickele. We see his family, including the despair of his current wife (they are separated) at the fact that, for all that they love each other, they cannot stay together. He is absorbed in who he is. He writes operas, film scores, orchestral pieces. He has lived many places and known many people, and he has gone from a musical joke to a venerable figure whose music people must pretend to like even if they don't. He has gone from scathing reviews to Oscar nominations. One of the things we see is musicians building up to the world premiere of a new Glass work. I've world-premiered a few pieces in my time--my junior high orchestra teacher was a composer--but it must be even more tense to do so when you know it's by one of the most famous composers in the field today. That on top of the controlled insanity that is an ensemble even on the best of days and playing the most common of pieces. When I was in junior high, I went to a summer music camp every year. It was a week long, Sunday to Saturday, and while the music we played was very simple, even getting Leroy Anderson pieces to performable state in, realistically, five days was an entertaining struggle, especially given the performing level of a lot of us. (Leroy Anderson's music is also distinctive, but not in a good way.) Yes, when you see and hear the finished opera, it is in the end worth it, but that's in no small part because the average person doesn't know about playing the same three measures over and over again until they're right. I have great sympathy, from this, for Holly Critchlow, Glass's third wife. It seems as though director Scott Hicks has caught the Glass family on the edge of the moment where Holly cannot take it anymore. From what she says and what is shown, she feels as though he needs a nanny and hand-holder more than a wife. She talks of supporting him, but he does not much talk of supporting her. She is the one who knows the passwords. She seems to be the one who brings some semblance of order to the chaos which surrounds him. Sheets and sheets of music paper--that delightful stuff with the staff already printed on it--are scattered everywhere, and he expects her to help him find the page he's looking for. I have no doubt that he loves her. It's just that, for some people, who they are can subsume everyone around them. They all become, essentially, support personnel. I can be like that, but I'm not sure he's aware that he is. Once, when the viola section was playing the D major scale, Mr. Meyer sat at the piano and embellished our trip back down with the Pachelbel Canon. It drove home, to me at least, that all music is built on such simple things. Most Glass music is built on the arpeggio, skipping up the scale over and over and over again. However, he builds harmony around it so cleverly that you can, if you are untrained, miss his starting point. Glass music does not fall in any traditional genre. We see, at the end, Glass walking quietly along the Nova Scotian shore, not unlike Einstein in one of Glass's own works. What goes on in his head is readable at least in part, as with any other artist, by the expression of his art. Every composer is different--the style and the orchestration are, in the end, an extension of who they are. I do not claim to be able to read Glass perfectly, because art is always an imperfect mirror. But when, in the deleted scenes, he says it's all math, that, I know.
Edith Nelson
"Glass: A Portrait of Philip in Twelve Parts" is an illuminating documentary, perhaps too much so, of the life and career of the famed composer, whose work I know mostly through his film work, starting with "Koyaanisqatsi" which a college friend watched repeatedly until an intervention had to be staged. So, it should come as no surprise, that my favorite part of this documentary is the segment with Errol Morris, Woody Allen and Martin Scorsese talking about their collaborations with him. There is also ample time given over to Glass' philosophy which informs some of the projects he has worked on over the years.(Why it does seem everybody famous gets photographed with the Dalai Lama?) And what starts off as simply providing background information on his personal life and marriage to a much younger woman(There is a joking reference to a guideline that a man should marry a woman who is one half his age plus seven which I also remember from The Autobiography of Malcolm X) takes on a life of its own as there emerges a sense of his failing to balance his work and personal life adequately in preparing a new opera in Germany. While most men his age in their seventies are more likely starting to retire and relax, Glass' pace is picking up as he pushes himself to write the music that is filling his head while keeping himself in excellent physical shape at the same time. Not only that, but he also starts a new family to whose attention he cannot give his fullest. I do not think that has anything to do with my thinking that men should stop reproducing at the age of 50 and am loath to ever be put into the position I find myself here to comment on somebody else's personal life. Instead, I would have preferred the writing, crafting and performing of the opera to be used as a framing device and given more attention in general.
Glass: A Portrait of Philip in Twelve Parts Quotes
There are no approved quotes yet for this movie.
Discussion Forum
Discuss Glass: A Portrait of Philip in Twelve Parts on our Movie forum!