Go For Sisters
(2013)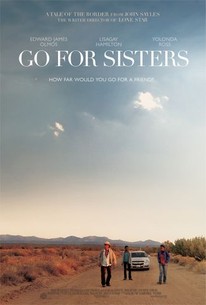 Movie Info
Two time Academy Award nominee John Sayles ("Lone Star") returns to the border in this new thriller starring Edward James Olmos. Bernice (LisaGay Hamilton) and Fontayne (Yolonda Ross) grew up the closest of friends, but took very different paths in life. Twenty years later, those paths cross: Fontayne is a recovering addict fresh out of jail, and Bernice is her new parole officer. But when Bernice's son Rodney goes missing on the Mexican border, his shady partners in hiding or brutally murdered, she needs someone who can navigate Rodney's world without involving the police... and turns to Fontayne. The pair enlist the services of Freddy Suárez (Edward James Olmos), a disgraced ex-LAPD detective, and plunge into the underbelly of Tijuana, quickly finding themselves in a potentially deadly cat-and-mouse game with a ruthless gang of human traffickers. (c) Variance
Rating:
NR
Genre:
Directed By:
Written By:
In Theaters:
On DVD:
Box Office:
$55,963.00
Runtime:
Studio:
News & Interviews for Go For Sisters
Critic Reviews for Go For Sisters
Audience Reviews for Go For Sisters
½
This isn't Mexico. It's like a theme park for bad behavior. Bernice is a single mother parole officer who hasn't seen her son much since he returned home from the military. She calls and goes to the area he lives but can never find him. One day one of his friends turns up shot up so now she will turn over every resource to find him. She uses one of her friends that is also her professional cases to track him down and get him out of whatever situation he's in. "Playing with Buffy the fucking Vampire Slayer here." John Sayles, director of Passion Fish, Eight Men Out, Lone Star, Men with Guns, Sunshine State, Silver City, Amigo, and Honeydripper, delivers Go for Sisters. The storyline for this picture is very interesting and unfolds in an unpredictable and unique fashion. The overall film is mainly focused on the characters and contains minimal action, but the acting is very good and the cast includes LisaGay Hamilton, Edward James Olmos, Yolanda Ross, Don Harvey, Isaiah Washington, and Michael Laskin. "Only victim?" "They killed his pitbull too." I came across this film on Netflix and thought it would be cool to watch Edward James Olmos in this role. The plot was actually fairly interesting and reminded me a little of Frontera. I will say this is a unique picture that is definitely worth a viewing and is interesting but it doesn't have enough drama or action to be a classic. "This looks like trouble. I don't need any trouble." Grade: B-
Kevin Robbins
One thing to know about filmmaker John Sayles: from his feature debut, 1980's amazing Return of The Secaucus Seven, on through Brother From Another Planet, Matewan, Eight Men Out, City of Hope, Passion Fish, The Secret of Roan Inish, Lone Star and Men With Guns, Silver City and Amigo, Sayles is one of the most consistent and original voices in filmmaking today, a true independent whose characters are always part of their world almost symbiotically, and often overwhelmed by it. Go For Sisters is the 18th film from Sayles and it's a doozy, deceptively simple and terrifically structured. It centers on two women who have been so close since high school they could pass for sisters. But they haven't seen one another in years. Bernice (LisaGay Hamilton) is now working as a parole officer in California, while Fontayne (Yolonda Ross) is an ex-con and recovering junkie now on Bernice's bad side, since she can send her back to jail for any minor infraction. But Bernice needs Yolonda's help. Her Iraq-vet son, Rodney, is missing, and a friend of his has been murdered, so Bernice needs to find him fast. With the help of Yolonda, they come face to face with disgraced police detective Freddy Suarez (Edward James Olmos, just superb) who gets them to Tijuana where Rodney may have been smuggling Chinese immigrants into the country. That's all I'll say about plot. One of the best things about a Sayles film is how they sneak up on you and just floor you. The unlikely trio of Bernice, Yolonda and Freddy come across enough characters to fill many movies, or a novel, something Sayles also does well, thus his expansive approach. Audience who can sit still for anything that isn't a Transformers movie will balk. Screw them. Sure, his storytelling technique can stifle the narrative, but for me the benefits and riches outweigh the flaws. Sayles excels in the personal, the everyday, allowing him to craft a world much like our own, no matter how stylized or bizarre. Humanism drives Sayles, not flash and action. Hamilton, Ross and Olmos are all sublime. Go For Sisters stays with you long after seeing it. Find this one on DVD now.
Manny Casillas
½
Why does no one seem to care about John Sayles anymore? This true American independent continues to focus on the struggles of American life. The barriers and roadblocks that we can't eliminate no matter how much we try. Life is tough, there is no happy ending. The struggle will always continue no matter who we become. And then it's all so life affirming! How? With GO FOR SISTERS Sayles once again accomplishes this feat but the film is not perfect. Too long, with an action minded plot that simply has no dimension. It's as if Sayles didn't really care. So edit it! Focus on the two extraordinary women at the center of this tale who are actually as normal and everyday as all of us.
Michael Lupetin
Go For Sisters Quotes
There are no approved quotes yet for this movie.
Discussion Forum
Discuss Go For Sisters on our Movie forum!