God Willing (Se Dio Vuole)
(2015)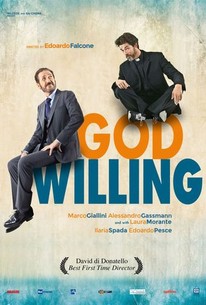 Movie Info
Italy's #1 smash-hit comedy, this wildly entertaining and multi award-winning debut feature from writer-director Edoardo Falcone is the story of an almighty battle of wills that pits a man with a God complex against the hip local priest. Tommaso (Marco Giallini) is an esteemed and defiantly self-confident cardiac surgeon, and an unabashed atheist. But the veneer of his perfect life is abruptly cracked when his only son Andrea (Enrico Oetiker) brings the family together for an important announcement; it's not a heavily speculated-upon declaration relating to his sexuality, but rather - to his father's great horror - his intention to abandon his medical studies to become a priest! Tommaso refuses to accept his son's newfound vocation, and decides to 'go undercover' to expose the charismatic Father Don Pietro (Alessandro Gassman) whom he is convinced has brainwashed his son. Meanwhile the other members of the family - unfulfilled wife Carla (a wonderful Laura Morante) and listless daughter Bianca - are provoked by Andrea's revelation in different ways, undertaking their own renaissance-of-sorts... Featuring delicious performances from the talented ensemble cast, and a series of set pieces that are mined for explosive laughs, GOD WILLING also has a sly subtext about how change can be triggered not only through personal introspection, but also by a good shock to the system.
Critic Reviews for God Willing (Se Dio Vuole)
Audience Reviews for God Willing (Se Dio Vuole)
There are no featured audience reviews yet. Click the link below to see what others say about God Willing (Se Dio Vuole)!
God Willing (Se Dio Vuole) Quotes
There are no approved quotes yet for this movie.