Godzilla vs. King Ghidorah (Gojira tai Kingu Gidorâ)
(1991)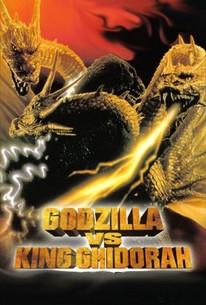 Godzilla vs. King Ghidorah (Gojira tai Kingu Gidorâ) Photos
Movie Info
The intricately plotted 18th Godzilla film involves time-travel to a remote island in 1944, Terminator 2-type cyborgs, and cute bat-mites called Dorats merging to form Ghidorah, who is killed by Godzilla in 1992 and resurrected as a half-metal flying machine to put down the big lizard. There's a lisping American commander aided by a "Major Spielberg," references to Tetsuo and Peter Arnett, and time-traveling villains out to keep Japan from becoming the world's most powerful economic force. The cluttered plot doesn't hurt the film much, as nearly everything else in this episode is a throwback to the Godzilla films of 30 years ago. There are still colossal battles between men in ratty monster suits and mysterious secret agents plotting to take over the world. The effects quality hasn't improved in the slightest, the theme music is the same, and the man playing Ghidorah appears to be wearing the original suit from 1964. These are, of course, positives for those who love the old films more than the big-budget remake. The fight scenes are fun, the M-11 cyborg is laughably silly, and the metal Ghidorah is impressive. Overall, this is a hokey but entertaining addition to the series, which continued with Gojira Tai Supeisugojira (1994). ~ Robert Firsching, Rovi
News & Interviews for Godzilla vs. King Ghidorah (Gojira tai Kingu Gidorâ)
Critic Reviews for Godzilla vs. King Ghidorah (Gojira tai Kingu Gidorâ)
All Critics (5) | Fresh (1) | Rotten (4)
The good parts are wonderful, but they are backloaded and buried under a science fiction plotline that is interesting mostly because of how confusing it gets.
Rubber Suit City once again. For 'Zillians only.
June 2, 2005 | Rating: 1/5
A guy in a monster suit destroys stuff. Fun!
July 30, 2003 | Rating: 3/5
Audience Reviews for Godzilla vs. King Ghidorah (Gojira tai Kingu Gidorâ)
½
Godzilla vs. King Ghidorah was an interesting attempt at recapturing the flavor of previous Godzilla films, and works well due to a good plot that was really thought out and wonderful special effects that are the standout of the film. Although the performances lack, the two monsters that fight it out once again are the real stars and is what makes this film worth seeing. I really enjoyed the film, and I felt that the film brought a lot of elements of some of the better Godzilla films into this film. The result is a confident monster film that will certainly appeal to fans of the series and it has something for ever viewer looking for mindless entertainment value. As far as the series is concerned, this is one of the best in the entire franchise and it will certainly give you something amusing to watch. The fact that the filmmakers applied themselves a bit more in making this one shows and the result is a memorable film that stands out among others in the series. The effects really stand out in this one, and I really enjoyed the film and I think it was one of the finer films in the franchise in a long time. I thought the filmmakers were keen on giving us something special, and in that respect they delivered something quite good that just made this entry a standout monster film that overcame its flaws by providing fans with good entertainment that bring the best aspects of Godzilla films.
How can a movie with a 3 headed dragon just fail so much as an entertaining film? Add UFO's, time travel and just terrible 1970's special effects, and you got Godzilla Vs. Ghidorah. Rotten Tomatoes seems to think this film was released in 2003. I think it was originally released in 1994. People from the future come to the past to get Godzilla to fight Ghidorah, Godzilla kills Gidorah. People from the future turn Ghidorah into a cyborg, and it fights Godzilla again. Godzilla all but destroys GIdorah again, but not before being dropped into the ocean. Even though Godzilla lives in the ocean, some how being dropped into the ocean by the destroyed mecha-king Gidorah maybe defeated him. Again. This time. Or did it? :-0
Bryan Davis
Super Reviewer
½
A bit confusing but an otherwise enjoyable entry into the Godzilla franchise. After "Godzilla vs. Biollante" underperformed, Toho decided to have Godzilla fight his classic nemesis, King Ghidorah. This decision was made to give the movie more market value. The story has a cheesy but intriguing plot regarding time travel. The time travel element takes the audience back in time to witness Godzilla's origins. It is pretty fascinating seeing what Godzilla was like before he mutated. The time travel element is the movies weak point because it causes a lot of paradoxes within the story. It's impossible to make a plot-hole free time travel story, but the script could have been better. Aside from the confusing time travel element, the story is decently paced and the human characters are easy to attach to. There are some great moments of comedy, not unintentional humor, but intentional humor. The monster action is pretty good, even though it is a little static, but the ending battle between Godzilla and Mecha-Ghidorah is a great battle that makes the whole film worth viewing.
Christopher Heim
Super Reviewer
Godzilla vs. King Ghidorah (Gojira tai Kingu Gidorâ) Quotes
There are no approved quotes yet for this movie.