Goemon
(2009)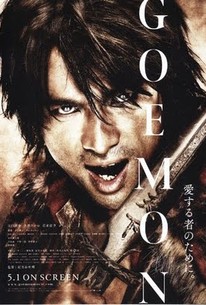 AUDIENCE SCORE
Critic Consensus: No consensus yet.
Movie Info
Japanese anime guru Kazuaki Kiriya ascended to prominence with his sprawling fantasy Casshern (2004), a tale that coupled post-apocalyptic visions with early 21st century design, and shared the success of the manga and anime from which Kiriya and his colleagues adapted it. Kiriya waited five years before emerging with this follow-up, produced by J-horror godfather Takashige Ichise (The Grudge). Described by more than one source in the press as a Japanese equivalent of Robin Hood, it unfurls in the late 16th century. The year is 1582, and the most miserly warlord in Japan, Oda Nobunaga, promptly falls prey to an assassin's blade and is succeeded by his own right-hand-man, Toyotomi Hideyoshi (voiced by Eiji Okuda). Unfortunately, all is far from well on the sociological front: a huge chasm exists between rich and poor, and evening things out is super-thief Goemon (voice of Yosuke Eguchi), who spends his day redistributing wealth to the lower economic classes. Fate takes an intriguing turn when Goemon acquires a small, ornate, handcrafted box of foreign design that he swipes from a merchant and hands to a homeless kid (voice of Arashi Fukasawa). Also after the box is the bugyo (or administrator) of Hideyoshi, who sends a vicious ninja (Kirigakure Saizo) out to take care of Goemon and retrieve the item; Goemon recovers it first, however, while saving the young homeless boy from a bellicose swordsman (voice of Tetsuji Tamayama). In no time at all, Goemon finds himself being pursued by everyone under the sun including Mitsunari, re-encounters a lost love from his past, Cha Cha (voice of Ryoko Hirosue) and realizes that the box will play an integral role in the nation's future. ~ Nathan Southern, Rovi
Critic Reviews for Goemon
There are no critic reviews yet for Goemon. Keep checking Rotten Tomatoes for updates!
Audience Reviews for Goemon
Magnificent historic tale of a Japanese Robin Hood. In the running time of story, there is certainly no lack of sumptuous composition and stunning colour. The action is hyperactive and generally defies the rules of the real world, though they make total sense in the scheme of Goemon's. The sheer audacity of the large scale battles, especially in the last quarter, makes the viewer simultaneously bewildered and amazed. The style is very solid: the mix of Asian/Western costume design or architecture is continuous through the entire movie and nothing looks like a mistake or an accident or bad taste. The mix of true historical elements and modern elements (dance, etc) keeps things real while traditional elements (like the firefly) constantly remind us it's also a fairy tale that we are watching. All actors match their roles, great casting and especially the lead actor Yôsuke Eguchi is so universally good.
Dean McKenna
Super Reviewer
½
It took a while for Kazuaki Kiriya's sophomore film to get completed, but Goemon is another piece of work.
Although the legend of the Goemon Ishikawa character is similar to Robin Hood (steal from the rich give to the poor), Goemon does not feel like that. Coming in at a few minutes past 2 hours, this picture delivers distinctively characteristic visuals and a good story with a handful of major characters. The opening 40 minutes contain more of the entertaining events before eventually slowing down with multiple flashbacks and story development.
As seen in Kiriya's previous film, Casshern, he loves to employ CG effects. It exists all over the action as well as the settings. This does give the film a beautiful and unique look; albeit a bit unrealistic. Nevertheless, most everything else about the film will make the effects not one to ponder over too much. The action is good, although visually, the CG effects aren't the same as real time live action swordplay.
The cast is loaded with popular actors and all successfully fit into this picture. Yosuke Eguchi, Takao Osawa, and the lovely Ryoko Hirosue are just a few of the recognizable faces to note.
In the end, it is the visuals that may split the audience, but Goemon is an action drama worth checking out.
Goemon Quotes
There are no approved quotes yet for this movie.