Gold
(2014)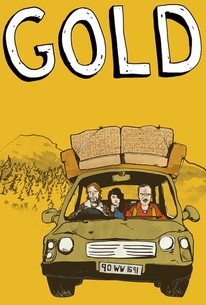 Movie Info
Out of their lives for 12 years, Ray is on a mission to re-connect with his ex-girlfriend, and teenage daughter who live with his former controlling and regimented P.E. teacher. Unfortunately his efforts to bridge the gap with his daughter seem to lead to chaos turning any good intentions he may have into comic catastrophe.
Audience Reviews for Gold
This is a good little indie comedy. I don't know if that sounds derisive or not, but I legitimately did think that this was a good movie. It's not what one would call the most unique indie comedy in the world, but it does benefit from a really talented cast and some good writing. I do think that, perhaps, the film could've explored a bit more what abandoning a child does to that child once they grow up. Though, I do think, in Ray's case at least, he wasn't really healthy enough mentally to be able to be in his daughter's life at that time. But there's an interesting story to tell here with that and the film just sort of passes that chance up. And I say this as someone who grew up without a father. Not that I blame them for taking this approach, since I'm sure that they wanted to keep the movie light, relatively speaking, and going into what not being in your child's life as they're growing up does to them when you, somehow, want back in again. That's some fairly heavy stuff and the film stays away from that. But I just feel that it would've been interesting to touch on. With that said, I don't really think the film is, at any point, one where you laugh out loud. There are some segments where they show a training video Frank created and it's as cheesy as it probably sounds. But those were the comedic highlights of the film, for sure. As I mentioned, the film has a really strong cast. Maisie Williams is a really good actress and I think she plays the role with an edge, but not necessarily as unlikable as her character might come across at times. That's a really hard thing to pull off, honestly. There's so many times when, in stories like this, the kids affect come across like such dicks. This is a pretty serious subject matter and, I think, that the fact that kids are upset at their father, or mother, who abandoned them is certainly justified. But sometimes the writing makes it seem like they're in the wrong. So I'm glad to see that Maisie managed to find that balance. David Wilmot is also real good here. Like I mentioned earlier, his reasons for leaving, I believe, were legitimate. He wasn't someone that you'd want your child growing up around. And, again, the film finds a balance between him doing it for the right reasons and him doing it out of selfishness. I don't think that line ever leans towards the selfishness of it, but it does make you question it, even if they never bring it up. James Nesbitt and Kerry Condon are always good, so no surprises there. The film has a good indie-esque soundtrack. But, honestly, while the film is good at a lot of things, it never really excels at any one of them. It's not a great comedy, it's not a great drama, it's not a great exploration of father-daughter relationships. It's not a great anything. It's a jack-of-all trades and that's a bit of a shame. This should've been a great movie, it had all the ingredients, but then it used those ingredients to make a three-star meal. I'd still recommend this movie, however, it's a good movie. So if you have Netflix, then give this a shot.
Jesse Ortega
Super Reviewer
Gold Quotes
There are no approved quotes yet for this movie.