Gold Diggers of 1933
(1933)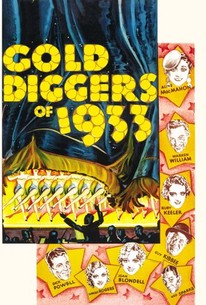 Gold Diggers of 1933 Photos
Movie Info
In this version of Avery Hopwood's theatrical war-horse The Golddiggers of Broadway, showgirls Joan Blondell, Ruby Keeler, and Aline McMahon attempt to find financial backing for the new show planned by producer Ned Sparks. Songwriter Dick Powell, offers to put up the money, much to his brother's disgust.
Critic Reviews for Gold Diggers of 1933
Audience Reviews for Gold Diggers of 1933
A politically engaged (and very funny) musical that reflects the historical context to which it belongs and, clearly in favor of Roosevelt's New Deal, uses the magical transformation of the limited theater stage into a gigantic cinematic space to show that everything is possible.
Carlos Magalhães
Super Reviewer
Tastefully shot, playfully acted, and immaculately staged, this Depression-Era musical features a humorous and lighthearted script as well as some rather stunning stage performances. The cast does a phenomenal job of absolutely owning their respective roles, and legendary choreographer Busby Berkeley's music numbers do nothing but dazzle with their boundless creativity and focus.
Kristijonas Fussman
Super Reviewer
Another beautiful film from the ingenious Busby Berkely, Gold Diggers is just as much about the social history of the United States during the Great Depression than it is a dazzling musical. Movies during this era weren't apt to prod a finger at the government, or point out the obvious calamities of the financial crash of 1929. I point specifically to the Astaire/Rogers films, which always had glitz and glamour, looking at the playboy angle of Astaire and the dilettante showgirl that was Rogers. What is great about Gold Diggers is that not only does it address the times, it also shows grandeur towards the rich and romanticizes love, just as the movie musical is supposed to. Because of its eccentricities and allowance to be different, it is much easier to distinguish it from the thousands of other movies of that time period which all portrayed the wealthy and luscious as the happy ones. Not only was it certainly different yet gleeful, it is serious in its intent in showing the poor and downtrodden of the country, especially in the last sequence entitled "Forgotten Man." That number shows the veterans of America who are now homeless and tarnished, one of the most moving song and dance numbers in a musical ever. Busby reuses past actresses Ruby Keeler and Ginger Rogers from his musical of that same year, 42nd Street. Both films had spectacular set design, visual effects, and lovely musical numbers. Though the music in this film was very intriguing and sticks in the brain, two of the three large scale musical numbers were confusing and didn't make sense in the context of the theater. There was still some great costume changes and background, but it was really, very, confusing. Through it all it's got a timeless sense of humor, that has survived throughout, as many good older films have. It's also good to see because it's a Pre-Code film, which deals with sexuality, pre-marital sex, and the times it was set in. Powerful in so many respects, it's one of the best examples of classic cinema.
Spencer S.
Super Reviewer
Gold Diggers of 1933 Quotes
There are no approved quotes yet for this movie.