Golden Chicken
(2003)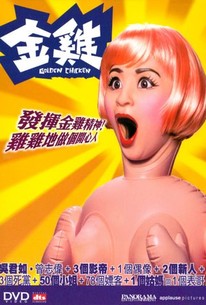 AUDIENCE SCORE
Critic Consensus: No consensus yet.
Movie Info
Kam (veteran Hong Kong comic actress Sandra Ng) is making a withdrawal from an ATM on New Year's Eve when she's held up at knifepoint by the desperate Bong (Eric Tsang), who is distressed to learn that Kam doesn't even have enough money in her account to make a withdrawal. The two agree to leave and go their separate ways, when a power outage traps them in the kiosk. Kam tries to cheer Bong up with an amusing story about her life as a prostitute. This leads to a conversation that lasts through the night, and flashbacks depict Kam's evolution, from underage "fishball girl" to popular showgirl (who wins over clients doing a deft impression of Jackie Chan circa Drunken Master) to masseuse to long-in-the-tooth hooker. Outside historical events converge with Kum's story as she weaves her tale, detailing everything from her encounter with a celebrity (Andy Lau as himself) to her unrequited love for a mysterious gangster, Yeh (Wu Kwan of Stanley Kwan's Lan Yu), to her longtime friendship with a former client, Professor Chan (Tony Leung). There's also an unplanned pregnancy, which leads to an opportunistic romance with Richard (Felix Wong), a wealthy businessman. This 2002 comedy Golden Chicken, directed by Samson Chiu, spawned a 2003 sequel, Golden Chicken 2. The first film was shown at the Film Society of Lincoln Center's survey Recent Films from Hong Kong in 2004.
Critic Reviews for Golden Chicken
There are no critic reviews yet for Golden Chicken. Keep checking Rotten Tomatoes for updates!
Audience Reviews for Golden Chicken
½
I didn't hate this movie at all, in fact its heart is definitely in the right place as this is a sweet story about an old prostitute and seeing her ups and downs, using historical Hong Kong events as the backdrop. Whether it be the stock market crash, the economy collapsing, etc. But, and this isn't a slight against the movie itself of course, as I am not from Hong Kong, the film will probably be a whole lot better to people who lived through the same events as Sandra Ng's character did. Perhaps it would resonate emotionally with them the way it didn't with me. And, again, this isn't a slight against the film itself. But the film is still pretty sweet and Sandra Ng does a great job at bringing a lot of heart and warmth to the character. It also helps that she is a very funny woman when she needs to be. Sandra simply adds a lot of likability to the character and she makes the film, in spite of its weaknesses, fun to sit through, even if I wouldn't say that it's a good movie. Another problem with the film is that isn't really all that funny, it has its funny scenes and moments but they're never really truly hilarious. The writing isn't great but, again, it is elevated by Sandra Ng's inspired performance. The movie also looks and feels like a low-budget affair but I can't complain about it too much, because I've seen low-budget films that were excellent. The problem doesn't lie in it feeling and looking low-budget, the problem lies in the quality of the dialogue and the lack of comedy. It isn't all bad, Sandra Ng does a great job in this film and it also has its funny and sweet moments. So while it's not perfect, there's still enough here to make this an average film at best.
Jesse Ortega
Super Reviewer
It will make you a Sandra Ng fan, if you weren't already. Great Andy Lau cameo.
Anthony Valletta
Super Reviewer
Golden Chicken Quotes
There are no approved quotes yet for this movie.