Good for Nothing
(2012)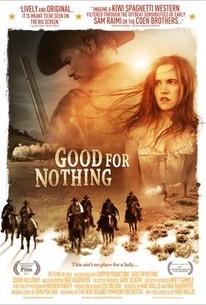 Movie Info
Inspired by the Spaghetti Westerns and celebrating the Western genre with an interesting twist, Good for Nothing follows an odd romance and the resulting emotional confusion of an outlaw who reluctantly develops strong feelings for a woman he has kidnapped. Yet when the outlaw (Cohen Holloway) tries to force himself on the young and beautiful Isabella Montgomery (Inge Rademeyer), he finds himself unable to 'get it up' due to a surprising bout of performance anxiety. Unable to understand the reason for his erectile dysfunction, the outlaw goes on a quest to find a solution for his problem with the kidnapped Isabella in tow. But the pair are pursued by an unpredictable posse who are set on killing both the outlaw and Isabella, who they have mistaken for a whore and accomplice to the outlaw. -- (C) Official Site
News & Interviews for Good for Nothing
Critic Reviews for Good for Nothing
Audience Reviews for Good for Nothing
Mike Wallis' Good for Nothing isn't good for much.
Part of the story is fit for a comedy, but this film isn't funny at all, which includes the scenes where it seems like it's trying to be. The plot really takes a while to pick up with very little in the way of dialogue; by the time the lead characters reveal a portion of themselves, it is already deep into the film and it seems late, granted the run time is just under 90 minutes.
The western style shootings aren't exciting or stylized much in any way shape or form, which probably pushes them toward the realistic side of things, despite some terrible aiming from the shooters.
For most of the film, there is no hero and the villains are just plain forgettable. Cohen Holloway and Inge Rademeyer do show some potential, but the writing really holds them back.
There isn't much to say about Good for Nothing, except to let it be and take a chance on something else.