Good Kill
(2015)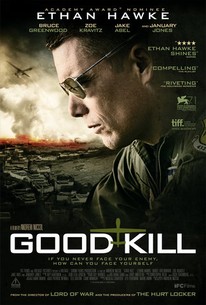 TOMATOMETER
AUDIENCE SCORE
Critic Consensus: Thought-provoking, timely, and anchored by a strong performance from Ethan Hawke, Good Kill is a modern war movie with a troubled conscience.
Movie Info
In the shadowy world of drone warfare, combat unfolds like a video game-only with real lives at stake. After six tours of duty, Air Force pilot Tom Egan (Ethan Hawke) yearns to get back into the cockpit of a real plane, but he now fights theTaliban from an air-conditioned box in the Las Vegas desert. When he and his crew start taking orders directly from the CIA, and the stakes are raised, Egan's nerves-and his relationship with his wife (Mad Men's January Jones)-begin to unravel. Revealing the psychological toll drone pilots endure as they are forced to witness the aftermath of their fight against insurgents, Andrew Niccol (Gattaca, Lord of War) directs this riveting insider's view of 21st-century warfare, in which operatives target enemies from half a world away. (C) IFC Films
People Who Like this movie also like
News & Interviews for Good Kill
Critic Reviews for Good Kill
Audience Reviews for Good Kill
½
The growingly popular "Modern Warfare" sub-genre, Good Kill is about drone warfare and how an Air Force pilot is forced to become a drone pilot and struggles during the transition. A film like this poses many questions regarding the morality of drone warfare, the problem is it doesn't fully explore them. Instead we are focussed on Hawke's character and how his work life is affecting his personal life. The film does have an excellent cast, Hawke adds another great performance to his filmography but the real star is Greenwood who plays a colonel (a ridiculously underrated actor), Jones and Kravitz are also good. The visuals of terror is great, with very realistic drone combat that is sure to make some look on with horror. The script is so-so, with some pacing issues but director Andrew Niccol does his best to keep the suspense. Overall, a well acted drone warfare movie which vaguely explores the moral issues that comes with it.
Luke Andrews
Super Reviewer
½
Superb "modern warfare" drama that proceeded the flashier Eye In The Sky but is just as riveting, wobbling only slightly in sine occasionally overwritten dialogue and too-neat ending. Ethan Hawke brings a depth and nuance to his role and the direction is unfussy and focused.
Daniel Parsons
Super Reviewer
½
A drone pilot struggles with the morality of his job, the urge to fly again, and his marriage. Primarily this film is a debate about the ethics of drone warfare and the "War on Terror." The supporting characters are representatives of political positions, their metonymic function is to parrot the arguments for and against bombing sovereign nations, collateral damage (bombing civilians), and bombing people who might eventually bomb Americans. An overwhelming percentage of the film serves to present this argument, and while the content of their exchanges is largely substantive, it creates an inauthenticity to the film; I doubt that real military personnel engage in this kind of debate in this kind of language. Even January Jones's character becomes a mash of two types: the supportive military wife mixed with the disloyal military wife. Except for the main character, all of the others are cliched types. Ethan Hawke's performance is pretty good. His sensitive eyes and taut jaw convey Tom's conflict, but he's not served by the script, which doesn't give him too far to go in Tom's emotional and ethical development. In one scene, Tom feels guilty about bombing people from thousands of miles away, and in the next scene he feels more guilty about doing the same thing. Hawke does his best, and he's a talented actor, believable in this role, but I wish he had had more to work with. Overall, despite my complaints, Good Kill is not a bad film, but a greater focus on character would've made it better.
Jim Hunter
Super Reviewer
Good Kill Quotes
There are no approved quotes yet for this movie.