Goon: Last of the Enforcers
(2017)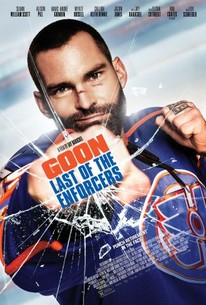 TOMATOMETER
AUDIENCE SCORE
Critic Consensus: Seann William Scott remains as watchable as ever in the title role, but Goon: Last of the Enforcers repeats its predecessor's violent and profane formula to diminishing effect.
Goon: Last of the Enforcers Videos
Goon: Last of the Enforcers Photos
Movie Info
After one too many injuries, hockey enforcer Doug Glatt (Seann William Scott) is forced to give up his aspirations of going to the big show and settle into a buttoned down career as an insurance salesman at the urging of his pregnant wife Eva (Alison Pill). However, Doug can't resist the siren call of the Highlanders, so he sets course to reclaim his former glory.
News & Interviews for Goon: Last of the Enforcers
Critic Reviews for Goon: Last of the Enforcers
Audience Reviews for Goon: Last of the Enforcers
½
Not as good as the first but I expected that, The story was pretty fun and it was nice to see so many original cast back too and they all play their parts just as good, The fights are as brutal as ever and very bloody too, If you enjoyed the first you should like this just as much.
Jamie Clarke
Super Reviewer
½
The first Goon film was a mix of heart and comedy, unfortunately this falls a little short. Sequels have a tough task of recapturing the magic that made the first film so great and this film hits a lot of cliche pitfalls and some odd choices by the creators. Scott is once again great as the lovable Glatt but he isn't enough to overcome a weird storyline that is more concerned with quick humour. Russell is absolutely crazy as the nemesis Cain but the end conflict doesn't have the same coonection like the first, the hero and villain dynamic was just much different. The film has a lot of humour and the family angle was a nice touch and the best part of the first film was the team dynamic, which this film successfully recaptures. I think this film is the final film in this franchise and while it is fitting for Glatt it is a little underwhelming overall, I just hope we receive another film to close this out. There's a lot worse franchises out there and hockey films in general so another Goon film wouldn't fall on deaf ears. 21-08-2017.
Brendan Nicholls
Super Reviewer
½
Goon was a very pleasant surprise for the comedy genre and this particular sport in film. Hockey has become a thing of the past in terms of making films that revolve around it. Having a main character who joins a team just to fight seemed like a very fresh premise, even though it was a true story to begin with. That being said, there was absolutely no reason for a sequel to be made. Luckily, writer and first time director Jay Baruchel clearly cares about this character and has crafted a very solid and heartwarming conclusion to the Doug Glatt story. I will honestly look back on both of these films equally as one long picture. Although hilarious at times, this film takes a much more dramatic approach and it works very well. Here is why I believe Goon: Last of the Enforcers is just as good as the first. After being brutally injured by a new and tougher opponent in Anders Cain, Doug is forced into recovery. Working a day job, awaiting a child, and realizing that he should be using every last ounce of his strength to get back on the ice, he calls to his former opponent for training. This film is the definition of the one-last-time storyline. Building on Doug's character more than the first film ever did, Goon: Last of the Enforcers is a much stronger film in many ways. Both of these films can easily be watched back-to-back as one long feature film. For such a simple premise, these two films have much more to say than the average comedy normally does. Heavy on the emotion and having a much better finale than the original, is seems as though I am praising this film much more than the first right? The reason I won't ever be able to call this a better film is due to the fact that the first half of this film is very rocky. Wyatt Russell plays Anders Cain, the newcomer who has taken down Doug in the opening scene of this film. Without spoiling too much, I will say that his character undergoes far too many changes throughout the course of this film. There are times when the story seems to be compensating for the fact that Doug is not on-screen. Anders is given the reputation of team captain on Doug's team while he is away, only to end up working with him and eventually having another inevitable feud. There were far too many turns with this character and as much as I enjoy watching Russell's performances, he seemed to be overdoing it a bit here. Each time his actions changed the course of the film, there were some inconsistent tonal shifts in my opinion. Anyone who likes to poke fun at the Canadian stereotypes and go along for the ride in terms of fighting in the sport of hockey and laughing at sports commentators, are truly the ones who will love this film in the end. That being said, this film offers a little more than that and a bit of a broader audience may actually enjoy this sequel more. Bringing in a family dynamic and whether or not Doug should actually continue to follow his dream as a fighter or not, really grounded this film in reality. Sure, this is a film about hockey so it has always been grounded in reality, but the fights were pretty ridiculous and wouldn't have lasted as long as they do in these films. The heart of this film is ten times that of the first and I highly commend it for having the guts to do so. I truly can't see another film coming in this series after the way this film concludes. In the end, Goon: Last of the Enforcers wraps up the arc of Doug Glatt in a nice bow, putting a smile on any faces that enjoyed its predecessor. Although slightly more accessible than the first, I truly can't see anyone being won over if they didn't enjoy the original film. They bleed into each other (no pun intended) in a pretty seamless manor, including almost every single character in some capacity. Very well-made from beginning to end by first time director Jay Baruchel (who also reprises his role), I can see a bright future ahead of him. Filled with many great laughs and even more heart, Goon: Last of the Enforcers is a very solid finale to this story. I may not have enjoyed the first two acts as much as the third, but it held my interest and was saved by some great characters and great comedy. If you liked the first one, you'll probably like this one just as much.
Goon: Last of the Enforcers Quotes
There are no approved quotes yet for this movie.