Gordy
(1995)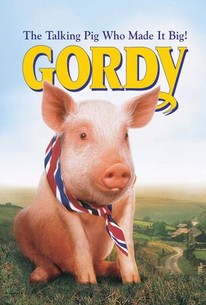 Movie Info
The friendship between a boy and a talking piglet forms the basis of this barnyard comedy. Gordy is the little porker who lives happily on a farm until the farmer goes bust and must sell everything, including Gordy's large family. When the wranglers come to load the pigs onto the truck, Gordy manages to escape. So begins his journey across the South as he searches for his doomed parents. The plucky pig finds a friend when he saves the life of a drowning boy, Hanky Royce, the heir to his grandfather's giant corporation. When grandpa dies, Hanky become CEO, but cannot actually take over until he becomes an adult, so all control is turned over to Gordy. Naturally, avaricious corporate villains oppose him, and even try to kill the precocious pig, who, along with Hanky, continues trying to find his parents before they are ground into sausage. In addition to popular C&W music star Doug Stone, who plays a major role, other country stars also make cameo appearances, including Boxcar Willie, Jim Stafford, Moe Band, and Roy Clark. ~ Sandra Brennan, Rovi
Audience Reviews for Gordy
I've seen bits and pieces adding up to most of the movie that is known as Gordy on cable over the last month or so and I think it's safe to say this is one of the worst movies ever made. Picture a corn-fed, white trash, extra-chromosome boasting version of Babe. Just make sure you strip it of any creativity, suspend any and all disbelief then feed it a obscene amount of high fructose corn syrup and the worst parts of American culture. I know its a kids movie, but kids are not stupid and what you feed them now shapes who they turn out to be later. I swear, it should be a law that any and everyone who had anything to do with this movie should be hunted down and kicked until they're dead. With the exception of Roy Clark and Boxcar Willie. Their appearances don't excuse the vileness of this movie though and despite my utter hatred for this movie I'll watch it until the end if I see its on TV. (And really? Who names their kid Hanky? "Come on, Snotrag! Let's go to the tractor pull!") If an alien culture was to come down to Earth, hell-bent on destroying us and mentioned it was because of Gordy I would surrender. Completely surrender...
Michael Gildea
Super Reviewer
Dare I say it? A poor-man's Babe.
Randy Tippy
Super Reviewer
Gordy Quotes
| | |
| --- | --- |
| Luke MacAllister: | Banjo... Goober? |
| | |
| --- | --- |
| Jessica Royce: | Gilbert, you promised to help me. How can you even ask me to complete with a pig? |
| | |
| --- | --- |
| Cousin Jake: | Pigs are intelligent animals, and this one is real smart. Boy, I bet his I.Q. is as high as mine! |
| Luke MacAllister: | Oh, poor thing! |
Discussion Forum
Discuss Gordy on our Movie forum!