The Gospel
(2005)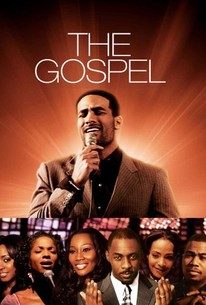 TOMATOMETER
AUDIENCE SCORE
Critic Consensus: While it features outstanding musical numbers, The Gospel reduces a series of worthy themes -- faith, family, forgiveness -- to soapy, banal clichés.
Movie Info
Close friends become unexpected rivals as they struggle to keep their spiritual home alive in this musical drama from writer and director Rob Hardy. David (Michael J. Pagan) and Frank (Sean Nelson) are two close friends who are members of the same Baptist church in Atlanta. The teenagers have developed a deep and abiding faith in Christ, and both aspire to become ministers some day; David, who has also become a star vocalist with the choir, is thought to have a head start since his father is the congregation's pastor, Bishop Taylor (Clifton Powell). However, David's faith is shaken when his mother dies while giving birth to another child, and when Bishop Taylor fails to arrive at the hospital in time, David runs away from home, turning his back on his father and his church. Fifteen years later, aging Bishop Taylor has announced he's retiring, and Frank (Idris Elba), now a reverend, seems poised to take his place. However, the church is in dire financial shape, and no one is sure how long Rev. Frank's flock will have a church to call home. Meanwhile, David (Boris Kodjoe) has used his musical talents to become a top-selling R&B singer, and his latest hit record, "Let Me Undress You," suggests he's given up on the faith of his youth. But David has been undergoing a spiritual crisis, and when he learns his father is ailing and the church is in dire shape, he returns to Atlanta in hopes of finding himself and keeping the church afloat. Not everyone regards this as good news, though; Rev. Frank, who sees his position in the church as a stepping stone to bigger things in the gospel music business and establishing a high-profile ministry, is not eager to share the spotlight with David, especially when the prodigal star begins organizing a large-scale fundraiser for the church. The Gospel features musical contributions from a number of leading gospel artists, including Kirk Franklin, Fred Hammond, and Yolanda Adams.
Rating:
PG (for thematic elements including suggestive material, and mild language.)
Genre:
,
Directed By:
Written By:
In Theaters:
On DVD:
Box Office:
$15,778,152.00
Runtime:
Studio:
News & Interviews for The Gospel
Critic Reviews for The Gospel
Audience Reviews for The Gospel
½
Faith-based films are difficult. Rarely are they as well made as 'The Mission' or 'The Passion', but they can pack an emotional punch despite their smaller budgets (see also, 'Fireproof' and 'Facing the Giants'). This film tries to do too much. It takes the prodigal son approach to the story, but tries to tie in too many subplots that the audience just gets lost in the mess. Then it tries to cram a bunch of gospel numbers in, but never gives an emotional payoff. Sure, it's really nice to see the likes of Yolanda Adams and Martha Munizzi on screen with actors like Boris Kodjoe (Resident Evil: Afterlife) and Idris Elba (Prometheus), but their presence doesn't have a solid grounding. It's almost as if the producers said, "Let's throw together a generic movie, but have a few well-known gospel singers in the mix." That's essentially what the movie boils down to. There are some good messages about forgiveness and ministry thrown in there for good measure, but it never amounts to anything truly substantive.
JC Eichenberger
The only thing about this movie that is even remotely interesting is the music, and even that is nothing I haven't seen before. This is every other "preacher's kid gone astray" movie that's ever been made with almost zero variations from the formula. I made it through about an hour and 15 minutes, but I just could not do it any more. I was so bored.
Amanda Hendsbee
There are a lot of good Christian movies out there, but this just isn't one of them. Most people were praising the music, but me, I on the other thought the songs dragged the movie on and didn't really add anything. I did appreciate this films good intentions, but the film is cliche ridden, the acting is wooden, the characters were boring and uninteresting, and the film tries to draw parallels to the Bible story of the Prodigal Son, but it fails to be as engaging. The ending does make the film somewhat better, but not by much. The film is slow and doesn't actually use that slow to build up anything like character development or suspense. What we're left with is a well intended but shaky attempt at Christian cinema.
Barry Newart
The Gospel Quotes
There are no approved quotes yet for this movie.