Goyôkiba (Hanzo the Razor: Sword of Justice)
(1972)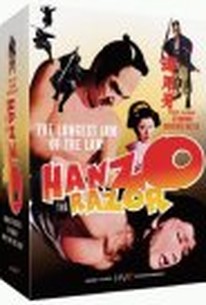 AUDIENCE SCORE
Critic Consensus: No consensus yet.
Movie Info
Although he was best known for his portrayal of Zatoichi in the long-running film series of the same name, Shintaro Katsu also starred and produced in a short-lived but memorable series of films built around the character Hanzo The Razor during the early 1970's. Goyokiba was the first film in this trilogy and took its basis from a popular manga series by Kazuo Koike (who also scripted this installment). In the film, Katsu plays Hanzo, an investigator whose devotion to his duties often puts him at odds with his corrupt superiors. A crook tips Hanzo off to the fact that a killer has escaped from a prison island and returned to the mainland. Hanzo pursues the case and soon realizes that its mysteries extend all the way into the higher levels of government. The guilty parties attempt to cover their tracks but soon discover that Hanzo has three weapons that can defeat them: his irreverent attitude towards power, his excellent fighting skills and, most unusually, an enormous phallus that he uses to "interrogate" female suspects. It also bears noting that he has toughened up said phallus by subjecting it to rituals like splashing it with hot water, beating it with a wooden rod and thrusting it into a burlap sack filled with uncooked rice. The finished film is one-of-a-kind mixture of samurai action, social critique and lurid erotic fantasy. Goyokiba is usually known in English speaking territories under the title The Razor: Sword Of Justice. It was followed in short order by two further Hanzo adventures, Goyokiba: Kamisori Hanzo Jigoku Zeme and Goyokiba: Oni No Hanzo Yawahada Koban. ~ Donald Guarisco, Rovi
Critic Reviews for Goyôkiba (Hanzo the Razor: Sword of Justice)
All Critics (3) | Fresh (2) | Rotten (1) | DVD (2)
Hanzo may be an earnest champion of the dispossessed and a fearlessly physical critic of the status quo - but his full-frontal assault on the patriarchal order is also overtly phallocentric.
December 1, 2010
Meet the Samurai constable who likes to interrogate female suspects with The Longest arm of the Law. Please don't make me have to explain. Much bloodshed and laughter.
March 21, 2003 | Rating: 4/5
Audience Reviews for Goyôkiba (Hanzo the Razor: Sword of Justice)
Hanzo the Razor: Sword of Justice. I'm not sure what the "sword" in the title refers to. It may be Hanzo's actual sword, or perhaps it means his penis. After all, he uses both a fair equal amount. Hanzo is a man of justice, kind of. He refuses bribes, or even "gifts" as his superiors call them. He tortures himself so that he knows what the criminals go through, and he slaps his penis with a cane and has sex with a bag of rice. This guy is hardcore. He brutalises his penis so that he can use it to "interrogate" women. This is a funkadelic, exploitation film, with a Shaft like soundtrack. The hero rapes women, but is so confident in his technique that the women soon beg for more. The plot is kind of hard to follow, and the main character is hard to like. It's a long way from Shintaro Katsu's Zatoichi, and he does perform it well. We admire Hanzo for his dedication, but his methods are questionable. It shouldn't be taken seriously though, it's a bit of violent titillating fun.
Luke Baldock
Super Reviewer
½
Katsu Shin using his johnson to "interrogate" female suspects, the funkiest soundtrack i have heard in a while. What can i say? I love it, every minute of it.
Tsubaki Sanjuro
Super Reviewer
Jaw dropping premise aside, a great film. It slides easily in between bizarre, intriguing, bawdy, psychedelic and plain ole dirty. The kind of film you would think would be spoke of only in legend. Luckily it's fairly easily obtainable.
Christopher Brown
Super Reviewer
Goyôkiba (Hanzo the Razor: Sword of Justice) Quotes
There are no approved quotes yet for this movie.