Grace of My Heart
(1996)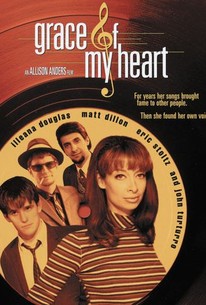 Movie Info
Illeana Douglas delivers a superb performance as Denise Waverly, a fictional singer and songwriter whose life bears more than a passing resemblance to that of real-life pop star Carole King. Edna Buxton, the daughter of a Philadelphia steel tycoon, aspires to a career as a singer, and when against her mother's bidding she sings a sultry version of "Hey There (You With the Stars in Your Eyes)" (instead of Mom's choice, "You'll Never Walk Alone") at a talent contest, she wins a recording contact and moves to New York City. She cuts a record and gains a new stage name, Denise Waverly; however, she soon finds that girl singers are a dime a dozen in the Big Apple and her career as a vocalist goes nowhere. But she has a knack for writing songs, and eccentric producer Joel Milner (John Turturro) asks her to pen some songs for his upcoming projects. Teamed with Howard Caszatt (Eric Stoltz), a hipster songwriter who wants to express his political and social ideals through pop tunes, she finds both a successful collaborator and husband. While her work with Howard gains Denise writing credits on a string of hit records and respect within the industry, their marriage falls apart, and she becomes involved with Jay Phillips (Matt Dillon), the gifted but unstable leader of a popular West Coast surf music combo. Students of pop music history will have a ball with the various characters modeled after real-life rock legends, and the 1960s-style song score includes numbers written by Joni Mitchell and J. Mascis (of the band Dinosaur Jr.), as well as one-time King collaborator Gerry Goffin; a collaboration between Elvis Costello and Burt Bacharach, "God Give Me Strength," led to a full album written by the two great tunesmiths.
Critic Reviews for Grace of My Heart
Audience Reviews for Grace of My Heart
½
Finding Your Own Voice I really don't get all the people who claim that the similarities to Carole King's life are all that compelling. I mean, there are a few; certainly, Carole King was one of the most notable female songwriters of the era we're examining here, and it's certainly true that she is a great singer as well. It's also true that there really wasn't a place for a female singer-songwriter through most of the time she was productive. However, very few of the details of the character in the movie line up with King's biography for large amounts of the film. The framing device fits, but the second act is the life story of someone completely different, if it's the life story of anyone real at all. Given the evidence, I don't think it can be. We start with Carole King and proceed to examine large amounts of the music industry of the sixties. And even at the start, there are some pretty prominent differences. Where we start is with Edna Buxton (Illeanna Douglas), a steel heiress. She is competing in a talent show, the prize of which is a recording contract. Only it's a bit of a scam, and there is no recording contract after all. Still, she goes to New York and tries to make a career of it. However, there's no market for what she does anymore. A record producer (Richard Schiff) agrees to take her demo and shop it around, and it comes to the attention of Joel Milner (John Turturro). He can't sell Edna as a singer, but he knows that her songs can be hits. He changes her name to Denise Waverly and lines groups up to sing her songs, and indeed, the songs become hits. Eventually, she starts working with Howard Cazasatt (Eric Stoltz). They start sleeping together, and when she gets pregnant, they get married. When she discovers him in bed with someone else, they get divorced. She meets Jay Phillips (Matt Dillon), a kind of a Brian Wilson analogue, and suffers through everything that implies. Unfortunately, there's so much music to this that the soundtrack album only features about half of it. It also seems to be out of print and therefore more expensive than I can afford these days. However, it is a good soundtrack. Elvis Costello and Burt Bacharach worked together on a couple of the songs, leading to an album and the only good part of the second Austin Powers movie. Some of the people who wrote songs for the soundtrack are connected to the era, including being people whose lives are borrowed for bits of the story. Carole King isn't one of them, though her ex-husband and daughter are, as is Joni Mitchell. I don't know who wrote the quasi-Brian Wilson music, but it's pretty well lined up with what he was doing in 1967. To be honest, I wouldn't even mind owning the album released at the end of the movie, which is supposedly a parallel to [i]Tapestry[/i], an album I already own and have for years. This is another one of those movies where it's important that the heroine isn't movie star-pretty. She's not unattractive, but she's relatively plain and knows it. Oh, she can still be hurt when Howard puts it in such blunt terms. Just because you know your relative level of attraction doesn't mean you need to be told, especially when you're pregnant. The scene wouldn't have worked if the actress had been astonishingly beautiful. Or even moderately pretty. She had to be plain enough to legitimately worry about her looks. Yes, I know that plenty of attractive women have low self esteem, but it's still aggravating to a lot of women to see someone who looks like Julia Roberts agonizing about her appearance. I'm not calling Illeanna Douglas ugly by any stretch, but she isn't what we think of as conventionally attractive, and she is being told that the man who's been sleeping with her for some time that he had always expected that he would marry a blonde bombshell. Once again, I have no idea how this movie ended up in my queue. I'm glad it did; it's certainly better than most of the other movies I've been watching lately. But it's a thing that comes up every once in a while. I can see reading a plot summary of this and thinking, "Wow, that sounds kind of neat." And it's true that it has Eric Stoltz, of whom I am extremely fond. However, it's enough to make me start thinking about writing a list of why I put things on my Netflix queue when I add them. Sometimes, I end up extremely fond of the movie, occasionally even to the point of adding them to my Amazon wishlist. Sometimes, I'm just glad to have seen them the once. Often, they are terrible and I don't have any idea why I wasted my time with them. This one, I'm glad I saw the once, and I've added the soundtrack to my Amazon wishlist. That's not a glowing recommendation, I admit, but it is, as I said, considerably better than a lot of the other movies I've seen for no reason that I can remember.
Edith Nelson
I love this movie, seen it years ago and loved it then, the music is great, I even have the soundtrack. Illeana Douglas does a very great performance, with everyone else backing her up. I agree the lipsynching is cheesy, but it works. the last song in the movies is so great..just awesome.....
Gloria Calfy
Grace of my Heart is loosely based on the life of real life singer/songwriter Carol King who yearns to break free of her privileged suburban upbringing to become a pop music singer but instead defers her dreams of pop stardom settling for a career as a songwriter. Moving to New York she meets famous song manager Joel Millner (John Tuturro) who helps her on the road to stardom and becomes her lifelong friend and confidant. Changing her name to Denise Waverley she writes a number of hits and becomes a famous and much sought after name in the music industry. She faces a lot of tragedies including the suicide of her husband Brian Wilson (played by Matt Dillon) but she overcomes all the hardship and gets her life back on track and produces and brings out her own new album which sells over a million copies. Illeana Douglas does a credible turn in the title role, Patsy Kensit plays Denise's longtime songwriting partner and loyal gal pal Cheryl Steed and a very young Bridget Fonda portrays the teenage closeted lesbian and pop singer Kelly Porter.
Grace of My Heart Quotes
| | |
| --- | --- |
| Denise Waverly/Edna Buxton: | Mother, I can't sing in a dress that doesn't fit. |
| Mrs. Buxton: | The dress suits the occasion. It's you that doesn't fit. |
Discussion Forum
Discuss Grace of My Heart on our Movie forum!